Russia becomes the second country to ban bitcoin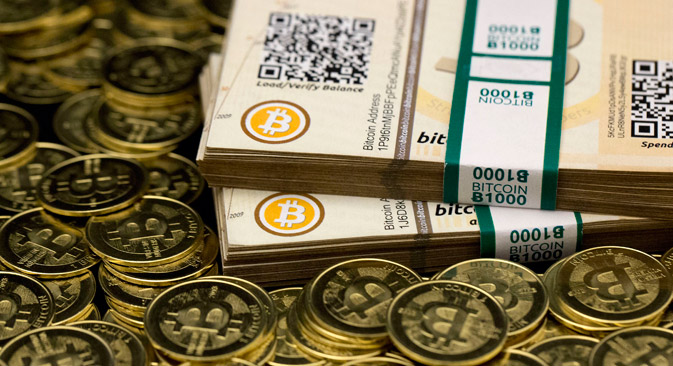 Changing Bitcoins for rubles is prohibited. Source: Reuters
Users say they plan to ignore the ban while experts try to balance the virtual currency's benefits and drawbacks.
On Jan. 29, the Central Bank of Russia issued an official warning stating that all Bitcoin transactions will be considered potentially suspicious and added that use of Bitcoins in Russia is illegal. The currency is already banned in China, and the Financial Supervisory Authority of Denmark has also issues a statement warning against its use.
Bitcoin around the World
For
In November 2013, the U.S recognized Bitcoins as legal tender.
In Germany Bitcoins are recognized as a unit of account, or "private money". Sales of Bitcoins are subject to Value Added Tax and profits from operations with Bitcoins are subject to income tax.
In Norway, virtual currency is a recognized stock exchange asset and subject to capital gains tax.
Against
In China, financial institutions are prohibited from conducting virtual currency transactions.
"Overall, the Central Bank's position is justified. They're trying to protect the financial system. The main complaint regarding Bitcoin is that there is no backing from any central monetary authority, and they are underpinned only by user confidence that they can make purchases. The danger to the financial system is that they can be impaired. However, the value is provided by the fact that it is very difficult to generate Bitcoins," said Maxim Petronevich, chief expert at Gazprombank's Center for Economic Forecasting.
Still, the use of Bitcoin raises many questions. The ability to use the currency anonymously has already resulted in several scandals involving fraud and the sale of illegal goods on the Internet. Additionally, some economists warn that Bitcoin could be the next financial bubble.
On the other hand, Bitcoin is an intriguing alternative to standard world currencies. Its low commission rate makes it very attractive to consumers, and many banks, including JP Morgan Chase have expressed interest in using a variation of the Bitcoin model for their own online payment systems.
Bitcoin in Russia
In Russia as a whole, Bitcoin just started gaining popularity. According to experts, Russia accounts for only a very small portion of global turnover, and the volume of global Bitcoin transactions is barely $10 million. "In Russia, Bitcoin is used more for savings rather than to pay for goods and services. Participants in the system who noted the potential growth rate of the virtual currency and invested in it are receiving a solid income today," said Zecurion research director Vladimir Ulyanov.
So far, Russian Bitcoin users have been on the defensive.
Mikhail is the owner of two Subway franchises that accept Bitcoins. He made the decision to accept the new currency due to the number of progressive students he sees as customers. He believes that the future belongs to virtual currency, and not rubles or dollars. As for the Central Bank's position, Mikhail says that he will continue to accept Bitcoins until formal action by the regulator.
Drivers for the Wheely car service began to accept Bitcoin at the very end of January. Marketing director Sergei Kalyuzhny said that during the first week the virtual currency was in use, transactions totaled $1,000 (1-2 Bitcoins). "To process these transactions, we use the services of American companies, which gives us the right to put Pay by Bitcoin on our Web site," said Kalyuzhny.
"We don't have anonymous payments, so for now, until Bitcoin is explicitly forbidden by the Central Bank, we see no reason to stop accepting the virtual currency."
The Petrodvorets-based watchmaker Rocket uses a similar arrangement. "Initially, using Bitcoin was an experiment for us. So far, 95 percent of virtual currency sales occur in the Western market," said company manager and creative director Jacque von Polje.
Analyst Mikhail Kuzmin of Investcafe said that the ban would actually not have much effect on the use of the currency. "Those who use Bitcoins for personal reasons will face no harm from the ban, as the mining and transfer of Bitcoins is not regulated by the Central Bank. Moreover, no one bothers to buy virtual currency at major foreign exchange points, and only changing Bitcoins for rubles is prohibited."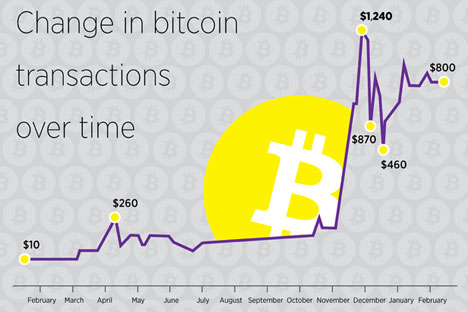 Click to enlarge the infographics.
All rights reserved by Rossiyskaya Gazeta.