Russian web millionaires go West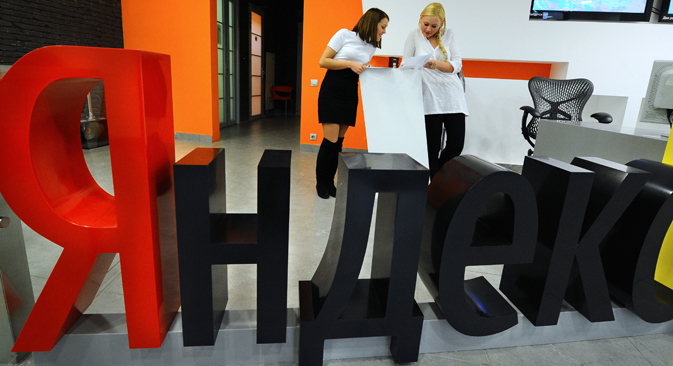 For Yandex Russia is not enough. Source: ITAR-TASS
International expansion is the new watchword for the Russian venture market's movers and shakers. As the latest ranking of the country's internet millionaires indicates, the winners are those who invest abroad.
The magazine Sekret Firmy (meaning "company secret" in Russian) has conducted a study together with the BrandSpotter agency to identify Russia's richest internet millionaires and companies they own shares in. RBTH and Sekret Firmy have collaborated to find out which projects Russian net moguls choose to invest in and why.
Russia's richest internet millionaires:
1 – Alisher Usmanov (Facebook, Mail.ru Group, Twitter), $5,415 million.
2 – Oleg Tinkov (Tcsbank), $2,065 million.
3 – Arkady Volozh (Yandex), $1,897 million.
4 – Yuri Milner (Facebook, Twitter, Spotify), $1,690 million.
5 – Leonard Blavatnik (Perform Group, Rocket Internet, Deezer), $1,601 million.
Pavel Durov, founder of Vkontakte, Russia's answer to Facebook, is in 28th place with $190 million.
Published by Kommersant on 03.02.2014. Source: open data bases and closed sources
By the end of the third quarter of 2013, Russia's giant search engine Yandex had 31.8 billion rubles ($915 million) in equity capital; Mail.ru Group, 26 billion; and payment terminal operator Qiwi, nearly 10 billion rubles. Between the three of them, the giants of the Russian IT industry could have easily bought half of the foreign and domestic assets featured on the Russian internet millionaire list. And yet IT projects that originated outside the three giants did not see any of that money and are unlikely to, ever.
Since January last year, Google has bought nine internet companies for a total of over $3.3 billion, while Yahoo! has spent $1.1 billion on 28 projects. In the meantime, Yandex has bought only one company in Russia (Kinopoisk.ru for $80 million), and Mail.ru Group none.
Vadim Tarasov, an associate partner with Bright Capital Digital, points out that no matter how attractive Russian projects are for potential buyers, the latter clearly do not include Russia's IT leaders.
This could be put down to several reasons, one of which is explained by Grigory Bakunov, director of technologies at Yandex: "There are not that many start-ups in Russia. We are interested only in those teams that complement or develop something that we are already working on. But there are very few start-ups that fit the bill."
The view that not many start-ups are considered as of value is supported by Igor Borovikov, chairman of the board of Softline (No. 46 in the ranking). According to his estimates, there are no more than 300 such start-ups in the whole of Russia.
Another reason is that Russian IT giants currently find it far more profitable to invest in development abroad. "Foreign IT leaders are operating in very developed markets; they need to work on innovations that lie outside their initial competence areas. Yandex enjoys a strong position on the Russian search engine market; it can continue to improve quality but the scale is no longer there - whereas entering foreign markets promises far greater opportunities," Tarasov explains. Indeed, Yandex has already started to actively penetrate foreign search engine and map applications markets. International expansion is on the agenda for Mail.ru Group too, which last summer launched the communication and entertainment apps website My.com.
Poor prospects
Russian investors are showing increasingly more understanding of start-ups' ambition to swiftly move to the monetization phase. Yet attempts to start making money as soon as possible often end in failure for start-ups, as was the case with digital projection company Displair and cross-platform storytelling application NARR8. Furthermore, according to Igor Borovikov, start-ups in Russia are significantly overvalued compared with their equivalents in Europe and the USA.
"The Russian market offers investors very limited opportunities," says Yuri Vaysman, CEO at Artics Internet Solutions. He explains that since the Russian market is considerably smaller than the U.S., European or Chinese markets, big businesses are interested either in foreign projects or in Russian projects which are aimed at global markets. Having said that, Vaysman adds, the situation is changing for the better: "We are seeing investors score some successes. Take for instance kinopoisk.ru or delivery-club.ru, projects where investors have been able to achieve a manifold gain on their initial investment."
Well, if Russian strategic and seed investment funds are going west, all that is left to is to wait for Western funds to come to Russia.
However, Russian lawmakers, who have already sent TCSbank and Qiwi shares plummeting by leaking details about restrictions on credit card issuance outside bank offices or a virtual ban on online payments and internet trading, seem to be in no hurry to create acceptable conditions for investors and companies alike.
Based on Sekret Firmy materials.
All rights reserved by Rossiyskaya Gazeta.