Russian ruble reaches 5-year low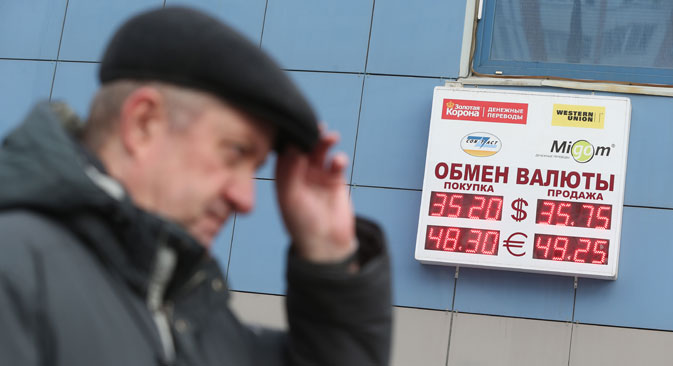 The dollar had hit its own high of 35.62 rubles/$1. Source: ITAR-TASS
On Wednesday morning, the ruble slid to a five-year low against the dollar on trading in the Moscow Exchange. Experts have tried to reassure investors arguing, that the ruble will gain ground soon
The Euro also reached an all-time high against the Russian national currency at 49.03 rubles in Wednesday morning trading on the Moscow Exchange (MOEX: MOEX).
The ruble had slumped 22 kopecks to a record low of 41.65 rubles against the bicurrency basket ($0.55 and EUR 0.45) by 10:34 a.m. Moscow time.
The dollar had hit its own high of 35.62 rubles/$1, up 21 kopecks from Tuesday close. On Wednesday morning the dollar had risen in unified trading to its highest point since March of 2009.
Maksim Shein, head of the Investment Department in BKS Financial Group said there are several reasons behind the ruble's fall. "First, there are speculators, who play games with currencies of developing countries – and the number of such speculations are not so small. Second, the liquidity is lost in Russian banks that receive funding from the Central Bank. Therefore, they are also suited to a ruble decline; they may make money on that."
"But the main reason is the intention of the Central Bank to let the ruble fall, which ultimately should lead to the fact that the value of the ruble will be formed by the market forces and will not depend on the Central Bank," Shein said.
The Central Bank pushed the bicurrency basket corridor up 10 kopecks to 34.8-41.8 rubles Tuesday evening. On Wednesday morning, the value of the basket was at roughly 15 kopecks from the upper bound of the corridor.
Pressure on the ruble intensified after yesterday's news that the Finance Ministry plans to be buying foreign currency in the next couple of months. But experts argue that the Finance Ministry's announcement could not affect the ruble.
According to Maxim Petronevich, chief expert of Center for Economic Forecasting in Gazprombank, this is "because the $6 billion, which the Finance Ministry plans to buy is incidental in compare with the value of daily currency exchange trading."
According to Petronevich, there is a psychological factor to this slide, and the ruble is likely to bounce back. "Most likely, the ruble will return to its previous position. I won't surprised if we see 34 rubles per dollar in April," agrees Shein.

All rights reserved by Rossiyskaya Gazeta.