A reset for U.S.-Russian trade?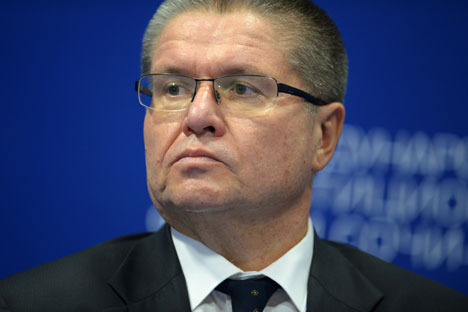 Russian Economic Development Minister Alexei Ulyukayev. Source: RIA Novosti / Mikhail Mokrushin
Russia's Economic Development Minister heads to Washington next week for a series of talks in increasing bilateral trade relations.
Russia and the United States will make another attempt early next week to revitalize bilateral trade during a working trip to Washington by Economic Development Minister Alexei Ulyukayev.
The minister will take part in a session of the working group for trade and economic relations under the Russian-U.S. Presidential Commission. Ulyukayev and U.S. Secretary of Commerce Penny Pritzker are co-chairs of the working group. Ulyukayev will also visit the U.S. Chamber of Commerce for a meeting with industry leaders and journalists. His agenda there will include a discussion of the outlook for the Russian economy and bilateral trade. The minister will also give a lecture at Georgetown University.
Although many Russia-watchers believe that trade is one place there is potential for U.S.-Russian relations to improve, bilateral trade has actually fallen over the past two years. According to Russian government figures, bilateral trade slumped by 9.1 percent in 2012 to $28.2 billion. A further 2 percent slide to $27.7 billion was recorded in 2013. The main reason for the contraction in Russian exports is the U.S.'s falling dependence on imports of mineral resources. Russian imports from the U.S. have risen, however, producing a trade deficit of $5.4 billion as of late 2013. The Russian government is determined to reduce that deficit.
Maxim Vasin, a senior analyst with Russia's National Rating Agency, said that there are a number of challenges to increasing U.S.-Russia trade. "Geographically and logistically, it is difficult for Russia and the United States to increase their bilateral trade," Vasin said, adding that American imports in the Russian market face stiff competition from European and Chinese suppliers. Meanwhile, U.S. demand for energy and minerals is increasingly met by domestic energy production.
Russian imports from the United States are also likely to be affected by the rapid depreciation of the ruble, said Andrei Soloviev, deputy head of JCB Russia, which manufactures heavy construction equipment.
"The Russian national currency is weakening, which makes exports of high-quality American equipment and machinery difficult," said Soloviev. "This is causing a whole number of problems in such areas as construction."
Russians officials remain tight-lipped about the essence of the trade proposals they intend to propose to their U.S. counterparts, saying only that a package of measures has been prepared for Ulyukayev to discuss in Washington. Dmitry Sazhin, deputy head of the Europe and America department at the Economic Development Ministry, said that bilateral trade numbers were not where they should be. "Obviously, we are not happy with the Russian-U.S. trade indicators. Given the potential that we have, our current figures are a fraction of what they should be. Also, Russian exports must be much more diverse, with a much high proportion of added value products."
Sazhin believes that bilateral trade between the U.S. and Russia is being affected by the lingering effects of the global economic crisis, unfavorable global trends in the prices of energy and other mineral resources, and growing transport costs. According to Sazhin, an increase in Russian-U.S. trade will require improvements in the legislative framework. In his opinion, efforts to improve trade should focus on investment and regional cooperation in small and medium business. Another priority is to attract American FDI into Russian cities dominated by a single industrial employer as well as special economic zones, with a particular emphasis on localization in high-tech industries.
"All these issues are at the top of the agenda of the working group," Sazhin said.
All rights reserved by Rossiyskaya Gazeta.