Russian billionaire duo exchange Apple for Alibaba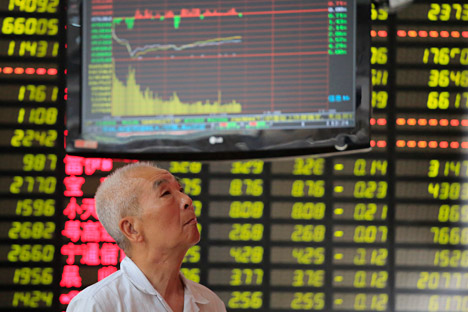 For investors, the Chinese internet giant is of interest mainly because of its size. Source: AP
Russian venture capitalist Yury Milner and business magnate Alisher Usmanov are cashing in their assets in western internet companies to invest in Chinese ones.
At the end of 2013, DST (Digital Sky Technology), the group of funds owned by Russian billionaires Yury Milner and Alisher Usmanov, made a dramatic change in its investment strategy.
Alibaba Group is a chineese holding of e-commerce businesses including B2B web portals, online retail and payment services, a shopping search engine and data-centric cloud computing services. In 2012, two of Alibaba's portals together handled 1.1 trillion yuan ($170 billion) in sales, more than competitors eBay and Amazon.com combined. Source: The Economist, 23 March 2013

The group sold off its stakes in a number of foreign net companies, including Facebook, Groupon and Zynga, as well as shares in Apple.
Their proceeds from the sales of these shares were about $300 million. Usmanov and Milner have since invested a major part of these revenues in big Chinese players such as e-commerce giant Alibaba Group and electronic commerce firm JD.com (formerly 360Buy), hoping that their investments in the Chinese internet sector will yield greater profits than U.S. companies.
Promising China
The new assets will bring good dividends, said Leonid Delitsyn, an analyst at Finam, an investment company. "Most investors consider investments in the Chinese market to be extremely attractive due to its size. The situation is very unlikely to change in the next decade," he explained.
"Chinese companies account for about 70–80 percent of our portfolio of international internet investments," said Ivan Streshynsky, head of USM Advisors.
"We are concerned about possible sanctions against Russia but cannot see any dramatic sanctions for our business," added Streshynsky - Usmanov's main advisor in the field of asset management.
Furthermore, Streshynsky does not rule out the possibility that Usmanov's holding will increase its stakes in Russian companies such as phone giant Megafon and internet firm Mail.ru Group. "This is logical, because the revenues of Mail.ru Group and Megafon in Russia are growing as the number of people using the internet and mobile communications increases," says Streshinsky.
The proven scheme
Back in April 2013, Usmanov purchased $100 million worth of Apple shares. The billionaire said in an interview with Bloomberg at the time that he believed in the future of the iPod and iPad producer despite the death of the company's co-founder Steve Jobs. Usmanov predicted that Apple would be "a very promising investment" during the next three years.
The Russian billionaire became a Facebook shareholder in 2009. At that time, Facebook's capitalization was estimated at $6.5 billion. By the time of its IPO in 2012, the social network was estimated at $105 billion. By selling a part of his shares, Usmanov received about $1.6 billion, thus returning the cost of buying his entire package and yielding a net profit of over $500 million.
The same thing happened with shares in Twitter, which Usmanov purchased in 2011 at $16 per share, making the price of the whole package $380 million at the time. The billionaire received approximately $450 million after Twitter's IPO.
At present, DST funds managed by Yury Milner purchase shares in various companies, mainly for Alisher Usmanov, and act in a similar way in the Chinese market. By purchasing a 0.5 percent stake in the largest online trading platform, Alibaba Group, for about $176 million, Alisher Usmanov hopes to increase his fortune.
The estimated value of all shares of Alibaba Group grew to $153 billion in February 2014 after the company announced its initial IPO. As a result, the value of Usmanov's package also increased, reaching approximately $765 million.
"For investors, the Chinese internet giant is of interest mainly because of its size. According to the company's results for the 3rd quarter of 2013 (the most recent officially published information), it has doubled its revenue compared to last year," said Shamil Kuramshin, an analyst at Freedom Finance, an investment company.
"In addition, Alibaba Group's successful initial IPO may be an additional impetus for other Chinese companies," he added.
DST Fund was established in the mid-2000s by Yury Milner and his partners. The fund purchased stakes in various Russian internet companies, in particular the web portal Mail.ru, Odnoklassniki, Vkontakte, etc. Alisher Usmanov became DST's largest shareholder in 2008. After that Milner established DST Global, a separate fund engaged in international expansion.
All rights reserved by Rossiyskaya Gazeta.