On the current political situation and plans for New York

Our plans haven't changed. In mid-April we're holding our first meeting with brokers to discuss the search for the first locations, and we've started the mechanical work on progressively reproducing our technologies using the equipment and with products from the local market.
The developing situation is truly political; after all, we should remember that even at the height of the Cold War, Fiat-Avtovaz and Pepsi plants were built in Russia. On the contrary, I think it's important for Russia to be perceived as a country of people who are dynamic, modern and not the least bit dangerous.
About the chef
Teremok's chef is my mother. She's a musician by trade — she taught piano in a music school. But as Pierre Gagnaire says, in Russia the women are the ones who hold the culinary tradition, and she is such a holder of tradition.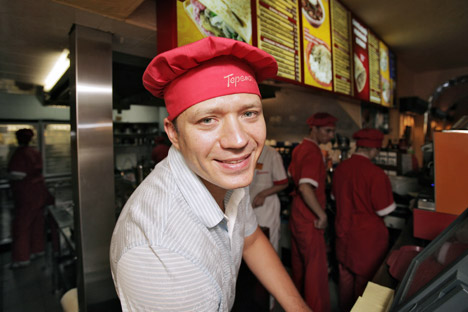 Mikhail Goncharov. Source: Kommersant
She reads a lot and watches a lot of things, but the key is that she never blindly copies anyone. My mother is the one who invented all of Teremok's recipes.
Take borscht as an example: ours is slightly sweet. In traditional recipes it's more sour, but in our family we've always made it this way. My mother suggests a dish, and we have a tasting to see if it's good or if I'm the only one who likes it. Then we look at the cost price — if it's too high, we try to lower it, but not no matter what.
We're about to introduce sorrel soup, and it's going to be wildly expensive, but here it's all or nothing. It will be a sort of premium soup. If people like it, we'll leave it on the menu.
On Putin
We currently serve 20 million people per year and sell 30 million blini. The more Teremok grows, the more clearly I understand how hard it is to manage such large systems. The power of inertia is appalling. It's like a 500-kilometer-long ship sailing in Pacific Ocean: even if all the passengers start paddling in the other direction, it will continue on the same path.
Therefore, when people try to ascribe all the troubles to Putin, I don't agree. Of course, I have certain grievances about the government, but on the other hand, you can go to sdelanounas.ru and see that over the last month 16 factories began operations. Even if someone got a kickback there, the factory still got built.
And then, take a person who has come to a meeting to protest, and ask him, "Where do you work? What do you do?" "In such-and-such a place, as a manager." "And do you take kickbacks?" "Well, yes, I do." "So why on earth are you making demands here?" Corruption eats away at the most ordinary people; that's the problem.
So in my opinion, you need to somehow start with yourself. I believe in progress, but you need a lot of time for it. In England just 150 years ago, no one had ever heard of workers' rights.
On New York
The plan is simple: Open two small restaurants, 50–80 square meters. Then we'll observe — if one works better and the other worse, we'll draw conclusions. There's not a lot of money involved, so we can take risks.
On the whole, New Yorkers are positive in this sense — they like anything new, and they like unconventional international cuisine: In the supermarkets you can find sections for African food, and furthermore, they're arranged by nationality. But when we open, of course we'll hang up newspaper and magazine clippings written about us.
We're probably even going to try to translate into English interviews with the U.S. ambassador [Michael McFaul, the U.S. ambassador to Russia since September 2011, who announced his resignation on February 3], who in two interviews, when asked, "What are your favorite places in Moscow?" said, "The Butman Jazz Club and Teremok on the Arbat, where I go with my children."
Foreigners are generally favorably inclined toward Teremok, not equating it with buying felt boots and ushankas on the Arbat, but rather seeing it as something practically beneficial. Sometimes in company all you need to say is, "I work at Teremok," and then you unexpectedly find yourself listening to an affluent senior manager from the Netherlands tell you for 10 minutes how great our restaurant is.
As far back as 10 years ago, guidebooks on Moscow were recommending that people stop into Teremok for a quick bite. In recent years, Teremok has started showing up on meaningful rankings. CNN included us in a list of the eight best brands outside the United States, and last year USA Today listed us among 10 foreign brands it would like to see in America.
When I wrote up the concept for Teremok a long time ago, I intended first and foremost that it should in no case end up resembling [Russian folk-style restaurant chains] Russkoye Bistro or Yolki Palki — it needed to be more of an urban place than some kind of Russian folk place.
The main idea was this: Don't cling to the old, but take tradition and make something new based on it. It's like the French: They have the Louvre, but they built the Centre Pompidou and a glass pyramid. They evolve.
The Greeks, for example, show only the past, and look where they've ended up. So they should have done a relaunch.
As for trends, last year on the website fastcasual.com, there was an article about the main up-and-coming trends in fast food and fast casual, and it turned out that of the 10 things listed, eight are simply built into our system: meal customization, emphasis on fresh products — we make dough every night.
So in America we don't need to change our approach to what we do, and this even instills hope in us. On the other hand, no one can guarantee whether or not such a concept will succeed. We'll see.
The full version is available in Russian on the site Afisha Gorod.
All rights reserved by Rossiyskaya Gazeta.