Burger King to open in Crimea as McDonalds pulls out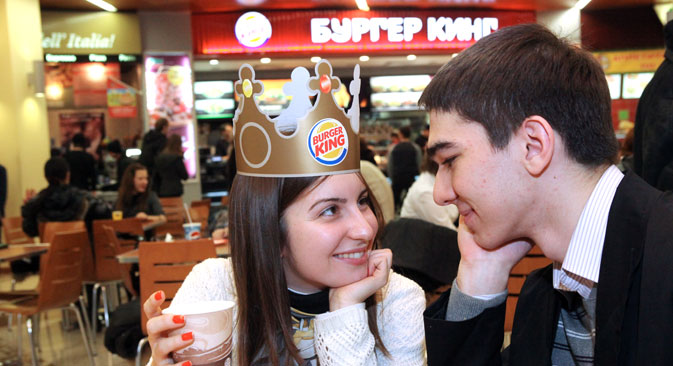 Currently there are no Burger King restaurants in Crimea, though the chain operates around 200 restaurants in Russia. Source: Vladimir Fedorenko / RIA Novosti
While the world's cartographers puzzle over which country the Crimean peninsula should be included in, fast food chain Burger King has swiftly taken advantage of its greatest rival's unexpected retreat from the peninsula.
A new king of the castle
The American fast food chain Burger King is planning to open for business in Crimea, where in early April one of its main competitors - the McDonald's chain - suspended its work.
"We plan to enter Crimea," said Dmitry Medovy, the general director of Burger King Russia, in statements reported by ITAR-TASS. However, Medovy could not specify exactly when this would happen and how many Burger King restaurants the chain would open in Crimea.
"The fact that Burger King has a higher pricing policy than that of the [region's] former McDonalds [restaurants] is unlikely to affect the company's plans in Crimea," says the Gazprobank analyst Vitaly Baikin.
"The opening of Burger King outlets in Crimea is unlikely to have a significant effect on the income of the business Russia-wide. Strategically, it is rather an image-focused project. This is a good PR move, and Crimea has probably become attractive to Burger King from this point of view," said Baikin.
Currently there are no Burger King restaurants in Crimea, though the chain operates around 200 restaurants in Russia.
The Burger King Chain, founded in 1954 in the U.S., is currently ranked second in the world after McDonald's by the number of establishments selling hamburgers. Burger King has more than 12,600 restaurants in 86 countries.
Fallen arches
A week ago, it was announced that McDonald's Ukraine Ltd. had decided to close its restaurants in Crimea.
"Due to operational reasons beyond the control of the McDonald's company, the activities of the restaurants located in Simferopol, Sevastopol and Yalta have been suspended," the company said in a statement on April 3.
The chain's executives explained this decision by the difficulties experienced by the financial service. The restaurants' employees were given the opportunity to transfer to any other restaurant in the company's Ukrainian network while maintaining their positions and salaries.
None of the restaurants involved were franchised operations, said the company.
Earlier, Crimean First Deputy Prime Minister Rustam Temirgaliyev suggested that the place of the American fast food outlets could be taken by Russian chains.
A foreign invested enterprise (FIE) McDonalds Ukraine Ltd was established in 1995. The first McDonald's outlet in Ukraine was opened in 1997 in Kiev. Today there are 79 McDonald's outlets in Ukraine.
Based on material published by NEWSru.com, Vedomosti and proprietary data.
All rights reserved by Rossiyskaya Gazeta.