Russia has the cheapest iPhone in Europe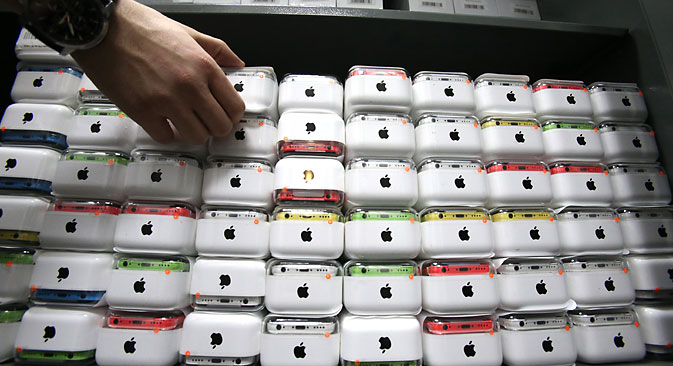 In Russia, the cheapest iPhone model costs $838.82. Source: Press photo
The cost of the iPhone in Russian retail networks is now the lowest in Europe, according to the head of Russian cellphone retailer Svyaznoy. The low price is a result of the depreciation of the ruble, which has lost 9 percent of its value against the euro since the turn of the year.
The cost of the iPhone in Russian retail networks is now the lowest in Europe, says the head of Russian cellphone retailer Svyaznoy Michael Touch in the company's upcoming analytical report. According to Touch, this was due to the depreciation of the ruble against the euro. Since the beginning of 2014, it has fallen by 9 percent.
Apple has not changed the ruble selling prices on the iPhone since the beginning of 2014, staff from several of its Russian partner companies told Vedomosti.
In Russia, the cheapest iPhone model costs 29,990 rubles. (609.3 euros or $838.82), while the most expensive is 39,990 rubles (812.5 euros or $1 118.52). For comparison, in the Netherlands, such models are 699 and 899 euros, in France – 709 and 917 euros, while in Sweden they are 691.31 and 910.95 euros, respectively.
Apple traditionally does not disclose financial figures in Russia. Fixing the iPhone ruble value should theoretically lead to lower revenues and profitability for iPhone sales in Russia, according to representatives of Apple's partner network in Russia. However, profitability is not always the first priority for manufacturers: Often their main goal is to increase the product's market share.
In 2013, the iPhone took 9 percent of the Russian market of smartphones in total units, while the previous year Apple products accounted for only 5 percent of the market, according to a Euroset report.
At the same time last year, according to the study, the company ranked third in the number of smartphones sold in Russia, while in 2012 it ranked 6th. In addition, revenue from units sold during the year has risen from third place (13 percent of the market share) to second (20 percent), only trailing Samsung, which has a 32 percent market share in revenue.
According to Michael Touch, the price for any brand of smartphone on the Russian market depends not only on exchange rates but also on market conditions and the level of competition.
However, as the ruble has continued to weaken for quite some time now, there is no guarantee that ruble prices for smartphones, including the iPhone, will remain static, as is noted in the Svyaznoy report.
First published in Russian at Vedomosti.
All rights reserved by Rossiyskaya Gazeta.