Yandex reacts to Putin comments about foreign influence as share price falls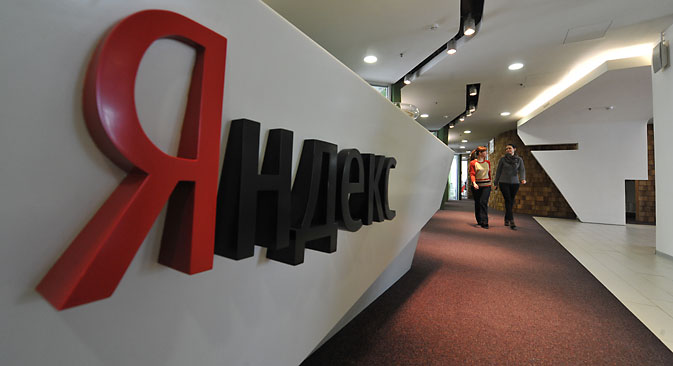 The president's words led to a 5 percent drop in Yandex's shares, which are traded on NASDAQ. Source: Sergey Kuznetsov / RIA Novosti
The Russian search engine was actually registered in the Netherlands and received its first investments from foreign investors. Nevertheless, it believes that this is "common practice for any internet startup."
Russian search engine Yandex has responded to comments by Russian President Vladimir Putin about foreign influences on the company that caused its share price to drop last week.
The search engine's press office has reported that the first investments into Yandex, which is the most popular search engine in Russia, were actually made by international funds and investors. It has been noted in an unrelated comment that this is commonplace for any internet startup in any country in the world.
Putin made his statement at a media forum in St. Petersburg organized by the All-Russia People's Front, a coalition of socio-political organizations, on Thursday April 24th.
Responding to a question asked by one of the forum's participants about whether or not the personal data of Russians using Google is safe, Putin answered in the negative and urged Russians to use the equivalent service provided by the Russian search engine Yandex. However, Putin slipped up, saying that even "with this company it is not so simple."
According to Putin, when Yandex was created it was "intimidated" (i.e. pressured) and forced to hire a certain number of Americans and Europeans to its executive board. Furthermore, Putin added that Yandex is legally registered abroad not only for the "purpose of taxation" (most likely a more favorable tax was in mind), but also for other reasons.
The president's words led to a 5 percent drop in Yandex's shares, which are traded on NASDAQ. By the end of the day Thursday, the price had partially recovered, but still amounted to a loss of 3.5 percent. Currently, the company's shares are currently down -2.8 percent compared to Thursday morning before Putin's statement.
Yandex noted that the stock exchange is currently trading about 70 percent of the search engine company's shares, but that these shares do not give their holders the right to strategic and operational management of the company.
Yandex's press office also noted that the company was, in fact, registered in the Netherlands in the mid-2000s, but that this was done as a result of the nature of corporate law, and not for any other reason.
One of Yandex's founders and key members, Ilya Segalovich, now deceased, commented back in 2011 on the company's international registration during an interview for the website Runetologia: "Foreign shareholders are afraid to create a legal entity here due to a lack of proper law on joint stock companies in Russia."
Yandex is registered as a company in Russia, but 100 percent of its shares belong to the registered stock company Yandex N.V. in the Netherlands. The company's shares are listed as Yandex N.V. on the stock exchange, and it is not registered in Russia as a legal entity.
Yandex also responded to another statement made by Putin, who claimed that the internet had emerged as a special CIA project. The company recalled that Russia is one of the few countries where national internet companies lead the market: Yandex for internet searches, Mail.Ru for email services, Ozone for e-commerce, Vkontakte and Odnoklassniki for social networks, and Yandex.Money and Qiwi for electronic payments.
The search engine Yandex was launched in 1997 within the company CompTek International, owned by Arkady Volozh. In 2000, Yandex was registered as a company. Volozh became its CEO and maintains that position today.
The search engine Yandex is fourth among the world's search engines in the number of queries processed (4.48 billion, or 2.8 percent of the world total) according to ComScore's statistics for December 2012.
All rights reserved by Rossiyskaya Gazeta.