Russia, EU, Ukraine set 4-week deadline to prevent new gas transit crisis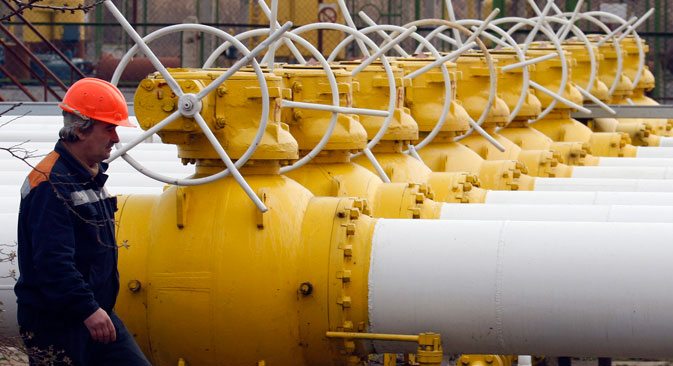 Russia announced that it would switch Ukraine to prepayment for gas as of June, which would automatically mean the start of new transit crisis. Source: Reuters
Ahead is a heavy schedule of negotiations aimed at resolving the problem by June, otherwise Europe will be left without the Russian gas it gets through Ukraine.
The first round of trilateral gas negotiations between Russia, Ukraine and the European Union were limited to setting out initial, high negotiating positions. Ukraine said it will pay for gas when its economy begins to recover and an arbitration court determines the fairness of the price, which could take years. Russia announced that it would switch Ukraine to prepayment for gas as of June, which would automatically mean the start of new transit crisis. Ahead is a heavy schedule of negotiations aimed at resolving the problem by June, otherwise Europe will be left without the Russian gas it gets through Ukraine.
The industry has already reacted to the stubbornness of the politicians by preparing for a crisis. Requests for transshipments of gas to Ukraine through the Uzhgorod corridor for Friday and Saturday jumped 14% compared to a week earlier.
Prepayment
Energy Minister Alexander Novak said: "In keeping with the contract, if there is no payment for gas, the contract clause on switching to prepayment comes into effect the following month. It was decided that Gazprom would not switch to prepayment in April. May 16 is the date when the bill for gas will be presented. The supplies can be paid for until May 31. If there is no prepayment for June by May 31, Gazprom will be entitled to limit gas supplies to Ukraine or supply as much gas as is paid for by May 31," Novak said in Warsaw on May 2.
EU Energy Commissioner Gunther Oettinger is also aware of the change in the conditions for Russian gas supplies to Ukraine. All parties have promised that supplies are guaranteed until the end of May, he said after the talks.
Debts
Oettinger also acknowledged the problems with Ukraine's gas debt and that Naftogaz Ukraine is not meeting its obligations under the contract for Russian gas supplies. There is no doubt that Naftogaz did not pay for gas in February, March and April, he said.
However, Ukrainian Energy and Coal Industry Minister Yury Prodan said that the current $3.5 billion debt could disappear as a result of arbitration in Stockholm. "We have obtained analysis from lawyers that the sum needs to be reconsidered, and it is probable that there might be no debt at all," Prodan said in Warsaw on May 2. Kyiv is looking to appeal Russia's decision to raise the price for its gas to $468.5 from $268.5 per 1,000 cubic meters starting from April, Prodan said. "Yes, we hope we will also consider the unsubstantiated prices of 2014," he said.
Prodan said that until Russia responds on the issue of lowering prices, Ukraine intends to go to court. "On May 28, we will meet with Gazprom in arbitration if we don't reach an agreement," he said, reiterating that Ukraine is not prepared to pay nearly $500 per 1,000 cubic meters of gas.
Ukraine has received the first $3.2 billion tranche of an IMF loan, and Novak said that this money should go toward paying Gazprom. "We have not yet heard from our Ukrainian colleagues when payment will be made for previously supplied gas and what the outlook is for subsequent supplies," he said.
"We haven't received an answer from Ukraine as to how much of this loan will be allotted for clearing the debt. Part of this loan should be allotted for clearing the debt for the ongoing supplies," Novak said.
Ukraine's Prodan replied that the IMF loan should "switch on" the Ukraine economy. "The Ukrainian economy will be working, will be growing, and will be expanding. Economic growth will enable [Ukraine] to settle for gas" with Russia, Prodan said.
"Naftogaz will be financed in a balanced way and there will be every possibility of settling up for gas that Ukraine receives from external sources," Prodan said.
Talks
"Today's negotiations were the first step for both bilateral and trilateral consultations. At the meeting we set out certain organizational measures for conducting the next negotiations," Prodan said.
Summing up the results of the meeting, Novak said that three issues were discussed: payments for supplied gas in line with the contract, measures to ensure transit shipments to European consumers and the outlook for financing gas supplies.
"We and our colleagues agreed that negotiations will continue and in the course of May at the latest we need to come to concrete measures," the Russian minister said. "The next round of negotiations will take place in the middle of May and then close to the end of May," Novak said.
All rights reserved by Rossiyskaya Gazeta.