Gazprom beats Apple to top global ranking amid Rothschild interest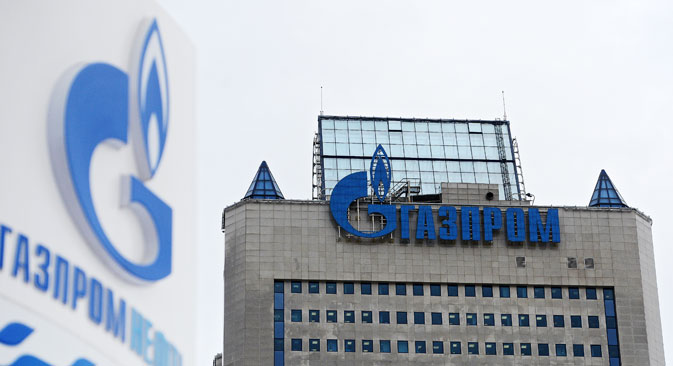 Russian gas giant becomes the world's biggest public company in terms of EBITDA. Source: Alexey Kudenko / RIA Novosti
Gazprom has become the world's biggest public company in terms of EBITDA, leaving Apple and ExxonMobil behind. In a separate development, the Rothschild Investment Corporation has been reported to be actively buying Gazprom shares.
At the end of April, Gazprom published its consolidated accounts for 2013. The figures show that in 2013 the company rose from third to first place in the world in terms of EBITDA (earnings before interest, taxes, depreciation and amortization), which grew by 22 percent to reach 2.01 billion rubles ($61.4 billion).
EBITDA stands for "earnings before interest, taxes, depreciation and amortization". It is an indicator of a company's operational profitability used to compare the company with its sector equivalents and assess its performance irrespective of its debts to various creditors or the state.
It is followed by China's Petrochina ($57.78 billion), ExxonMobil ($57.48 billion), and Apple ($55.76 billion).
In terms of net profit, Gazprom is the world's fifth largest company ($35.62 billion) and in terms of earnings, the 16th ($106.4 billion).
Experts polled by the business daily Vedomosti attribute Gazprom's rise in EBIDTA to record-high gas supplies to Europe, which grew by 16.3 percent last year, while the company's share of the market expanded from 26 to 30 percent.
At the same time, gas prices remained practically unchanged. Accounting for 40 percent of the company's earnings, Europe is the main market for Gazprom, Sergei Vakhrameyev, an analyst with Ankorinvest, told Vedomosti.
Yet this rise in earnings has had no effect on Gazprom's capitalization. Still undervalued, the company is not even ranked among the world's top 100 companies. As of April 29, Gazprom was only in 110th place, with a capitalization of about $85 billion. By way of comparison, ExxonMobil's capitalization on Apr. 29 stood at $436.08 billion, while that of the world's most valuable company, Apple, at $511.74 billion.
Rothschilds investing in Gazprom
It is therefore unsurprising that Gazprom's increasingly cheaper shares have provoked an increased interest from the Rothschild dynasty. In the first quarter of 2014, the Rothschild Investment Corporation increased its investment in Gazprom ADRs (American depositary receipts) sevenfold, to $1.7 million, according to the statement the corporation filed with the U.S. Securities and Exchange Commission.
"For a dynasty which has for many years been a symbol of wealth and power, this is not a significant amount. It is more of a signal that the situation on the Russian market may still improve," an analyst with the brokerage firm FBS, Kira Yukhtenko, told Vzglyad newspaper.
In the first quarter of 2014, Gazprom shares fluctuated between 120 and 145 rubles ($3-4 at the current exchange rate). By way of comparison, after the 2008 crisis, the company's stock lost 74 percent of its value and was priced at 84 rubles. Then the price began to rise and reached 247 rubles in 2011, after which it went down again.
Gazprom shares continue to be undervalued, Yukhtenko said. Their future value entirely depends on the West. If the West resorts to tougher economic sanctions against Russia, then everybody will suffer and Gazprom will feel the burn most keenly of all.
In that eventuality, the company's shares may fall to $2, the analyst continued. "If tensions in Russian-Ukrainian relations ease, Gazprom shares will go back to 135 rubles (about $3.7) and will continue to rise further," Yukhtenko concluded.
Based on material published by the Vedomosti and Vzglyad newspapers.
All rights reserved by Rossiyskaya Gazeta.