U.S. bun chain to lure sweet-toothed Muscovites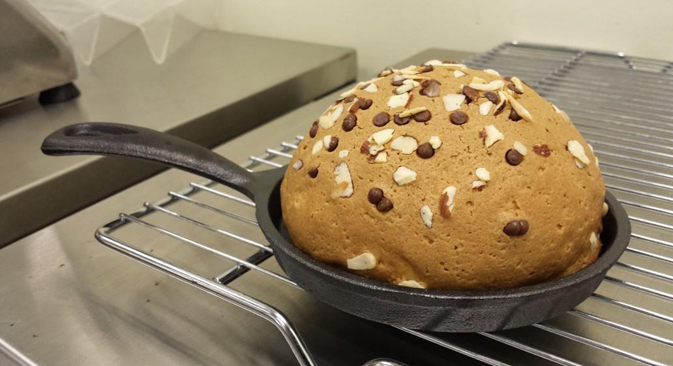 Two O` My Buns! Coffee shops are to open by the end of the year. Source: Press photo
Asian fast food continues to strengthen its position in Moscow. The chain of O` My Buns! coffee shops, specializing in Asian sweet buns, is entering the Moscow market, with two outlets to open by the end of the year.
Moscow's growing Asian fast food market is set to be boosted by the arrival of a new chain specializing in Asian sweet buns. The O` My Buns! coffee shop chain will be promoted in Russia by the company GingerBrandMan, which runs the Tutti Frutti Frozen Yogurt chain.
According to GingerBrandMan managing partner Vladimir Reich, the company has decided to purchase an O` My Buns! franchise. O` My Buns! is a coffee shop chain specializing in Asian buns with sweet fillings. Their premises are usually quite small, typically some 20 square meters, and the average bill is 250 rubles ($7) for a coffee and a bun.
The deal is now being finalized and the company is choosing locations for the first outlets, said Reich. According to him, by the end of this year, two coffee shops will open in Moscow – one in Stary Arbat and the other at the Belorussky Railway Station – after which the company may put the franchise up for sale.
The O` My Buns! chain belongs to the California-based Wellspring Industry Inc., which, among other things, supplies equipment for making frozen yogurts, in particular for the Tutti Frutti Frozen Yogurt chain. The O` My Buns! trademark was registered only in May this year, although the chain was set up in 2009. O` My Buns! has 15 coffee shops in the U.S., as well as in Taiwan, Saudi Arabia, and the UAE. They usually share premises with Tutti Frutti Frozen Yogurt.
According to the head of the Restkon restaurant consulting company, Yelena Perepelitsa, the success of any concept depends on location and the average bill. "Bakery products – buns, doughnuts – are familiar and popular in Russia. As for the bill, it matters what it is made up of, says Perepelitsa.
"Most customers of coffee shops that offer pastry and coffee are used to pastries being much cheaper than coffee. If both products are approximately the same price, there may be problems with demand."
An expert with the Franshiza.ru website, Anna Rozhdestvenskaya, warns that adapting an Asian concept is often a challenge given the specifics of the food and the high cost of materials. "There was an attempt to launch the Japanese chain Beard Papa's in Russia. Its first outlet opened in Gogolevsky Boulevard. There were bids for the franchise but it cost nearly 16 million rubles [$458,000] because of the rent and imported materials, which is too expensive," she says, adding that in the end, the owners of the Beard Papa's master franchise tried to sell the business.
First published in Russian at Kommersant.
All rights reserved by Rossiyskaya Gazeta.