Russia bans whole categories of food from EU, U.S., Australia, Canada, Norway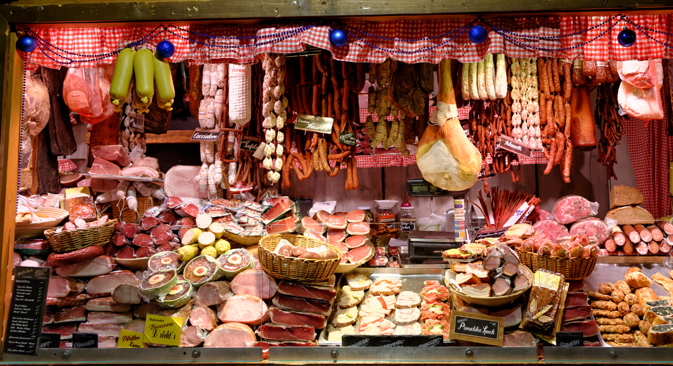 Government publishes list of foodstuffs affected by new import embargo. Source: Shutterstock / Legion-Media
1-year import embargo is a response to sanctions against Moscow.
Russian Prime Minister Dmitry Medvedev said he had signed a government resolution to introduce an embargo on whole categories of food from the EU, U.S., Australia, Canada and Norway for a period of one year.
"In fulfillment of the presidential decree, I have signed a government order. Russia is imposing a full ban on supplies of beef, pork, fruit and vegetable products, that is vegetables and fruit, poultry, fish, cheeses, milk and dairy products," Medvedev said at a Cabinet meeting on August 7.
"We hoped until the very last that our foreign colleagues would realize that sanctions are a dead end and that nobody needs them. But they didn't realize this. And things have turned out in such a way that we have had to go for retaliatory measures," Medvedev said.
The sanctions are being imposed for one year, but "If our partners show a constructive approach," the government is ready to review the duration of the embargo, the prime minister said.
For the EU, Russia is the first largest export market for fruit and vegetables, and for the United States, the second. Therefore, such a move could cause serious damage to the agricultural sectors of the U.S. and the EU, writes the Financial Times.
The Russian government website contains the following list of foods affected by the import sanctions:
- Beef, veal, lamb and mutton: fresh, chilled or frozen
- Pork: fresh, chilled or frozen
- Poultry and its edible offal
- Salted meat: in brine, dried or smoked
- Fish and crustaceans, molluscs and other aquatic invertebrates
- Milk and dairy products,
- Vegetables, edible roots and tubers
- Fruit and nuts
- Sausages and similar products made of meat, offal or blood; food products based thereon
- Packaged foods based on vegetable fats, including cheese and curd
- Food products with dairy content based on vegetable fats.
Based on material published by Interfax, Vedomosti and the Financial Times.
Click to enlarge the RBTH's infographics.
All rights reserved by Rossiyskaya Gazeta.