EU countries are set to experience a potential 12-billion-euro loss due to a 1-year food embargo that Russia has imposed in retaliation for sanctions.
The ban, which was announced by Russian Prime Minister Dmitry Medvedev on August 7, affects meat, including all forms of beef and pork, poultry and its subproducts, smoked foods, sausages, fish, vegetables, roots, fruits and nuts, as well as milk and all dairy products, including cheese.
Besides the EU, the ban also affects products from the U.S., Canada, Norway and Australia. Japan is not on the blacklist, although it has also introduced sanctions against Russia.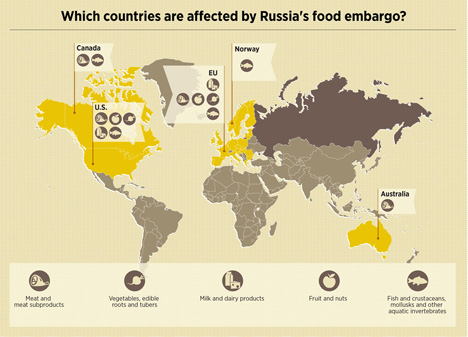 Losses for importers
Russia's food sanctions will have the biggest effect on EU countries, which are the biggest importers of food products to Russia. According to data from the Institute for Complex Strategic Studies (ICSS), Russia buys 31.5 percent of its meat, 42.6 percent of its dairy products and 32 percent of its vegetables from Europe.
In an interview with radio Govorit Moskva, EU Ambassador to Russia Vigaudas Ushatskas said, "It is presumed that for the EU the loss may reach 12 billion euros, since food products make up about 10 percent of everything we sell to Russia." Ushatskas noted, however, that these were just estimates made without analysis of any specific banned goods.
Experts stress that Russia is heavily dependent on food imports. According to the ICSS, Russia buys 70 percent of all its fruits and berries and almost 50 percent of its dry milk and cheese from abroad.
Out of all the EU countries, the ones with the strongest export ties with Russia are Latvia, Lithuania, Poland and Finland, which mainly export butter, cheese and curd. For example, 41 percent of Finland's butter exports and 47 percent of its frozen fish exports go to Russia. Latvia and Lithuania, meanwhile, send Russia 43 percent of their sausage exports. Lithuania, along with Poland, also sends Russia a substantial portion of its exported fruits, vegetables and nuts.
As far as Germany, Italy, the UK and Spain are concerned, ICSS believes that only their separate, specific producers will be affected by Russia's sanctions. For example, only nine percent of Spain's and six percent of Italy's frozen beef exports is shipped to Russia, compared with six percent of Germany's pork and dried fruits exports.
The U.S., Canada and Australia will also be affected since Russia buys their meat, fish, vegetables and roots. However, the volume of these imports is insignificant. For example, Russia's largest share of American imports is in meat, which is only five percent.
Although the aforementioned countries will be deprived of a sales market as a result of the sanctions, Russians should also stiffen themselves for some negative consequences.
Will Russian store shelves be empty?
The Kommersant newspaper, citing a government source, explains the logic and timeframe of the sanctions. On the one hand, the issue concerns providing "food security." In a few months Russia may be hit by national food export restrictions imposed by the "sanctioning countries."
Furthermore, Moscow hopes to stimulate import substitution. It is presumed that the World Trade Organization will cancel restrictions, and Russia will abide by its arbitration. Trade disagreements should also give farmers time to fill the freed markets.
However, experts think that it will probably be impossible for Russia to establish its own production and most likely new suppliers will have to be found.
According to Alexei Skopin, Head of the Department of Regional Economy and Economic Geography at the Higher School of Economics, Russia is "unable to immediately fill the gap with its own products."
"With the right policy, only in a year will 15-20 percent of the goods affected by the sanctions have been substituted with Russian products. In the meantime, Russia will have to depend on foreign suppliers," says Skopin.
The main import candidates are suppliers from Asia and South America. In fact, the ban on European imports may help Russia to expand existing collaboration with its partners in those continents.
"Russian counters will certainly not be empty. Turkey and Latin America are ready to completely fill the European gap," says Skopin.
"The only problem is the increase of transportation costs that will be included in the price. Also, the new products may be of inferior quality compared to the European ones," he adds. Skopin believes that prices on agricultural products will increase by 5 to 10 percent.
Storeowners surveyed by RBTH also think that food prices will increase. Representatives of small businesses say that suppliers may also increase prices for Russian products during temporary shortages.
Yet, there is another possibility. European foodstuffs may remain on Russian counters in disguise. According to Dmitry Potapenko from the Management Development Group Inc, it is likely that supplies of European products will continue through the back door – via the two other countries in the Eurasian Customs Union, Belarus and Kazakhstan.
All rights reserved by Rossiyskaya Gazeta.