Russian agro-industry stocks soar on back of food sanctions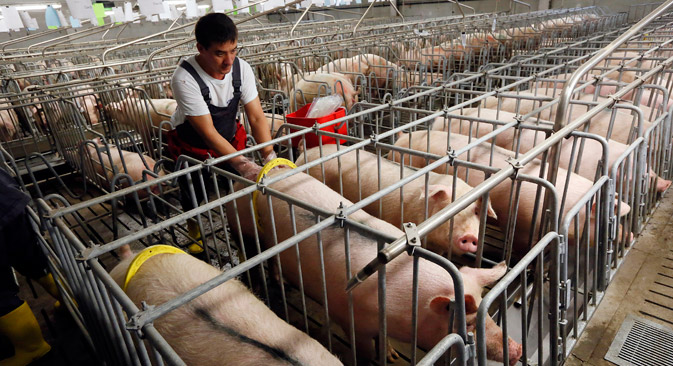 On August 12, Russian Prime Minister instructed the government to increase funding for the state program for the development of agriculture because of the 'food sanctions'. Source: Reuters
Sanctions have spurred investors to turn their attention towards Russian agro-industrial companies, in which stocks rose last week by 30-40 percent. According to experts, this is speculative growth, but in the coming years, these producers may attract foreign investment.
Russia's recent decision to respond to U.S. and EU sanctions by banning Western food imports has already had a knock-on effect on domestic producers, with shares of Russian companies in the food industry showing explosive growth.
The day after the announcement of restrictive measures on August 7, the Agro-holding Razgulyay went up by 40 percent, the grain giant Rusgrain by 36 percent, fish producer Russkoye More by 19 percent, and meat processing specialists Cherkizovo by 7 percent, says the head of the analytical department of OJSC IC RUSS-INVEST Dmitry Bedenkov.
"Already, many Russian agricultural enterprises have declared their readiness to replace the markets for the production of those goods on which an embargo was placed," said the Director of Sales for Dukascopy Bank SA in the CIS countries Pavel Simonenko, explaining the rise in costs.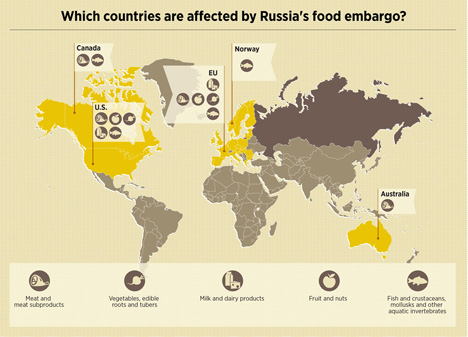 According to him, one holding alone, Razgulyay, may increase its turnover in 2015 by 120 percent - up to $60 billion rubles ($ 1.6 billion).
"For strategic investors, buying agricultural holdings shares would be more than a good investment: The annual yield of such investments can be up to 55-60 percent in 2-3 years," said Simonenko.
Companies to boost production
Russkoye More, the largest producer and importer of fish in Russia, therefore plans to increase both production and delivery of products from new regions, including Asia, Turkey and Latin America, the company's press service told RBTH.
In particular, despite the ban on the import of fish products from Norway, the group continues the shipment of chilled and frozen salmon at the expense of their own fish farmed in the Murmansk Region, as well as fish from Chile.
In turn, the other major fish producer, GlavTorgProdukt, has decided to increase its investment in the cultivation of sturgeon and salmon. Moreover, by the end of 2014 GlavTorgProdukt plans to open a new fish processing plant in Vyborg (on the border with Finland, 530 miles northwest of Moscow).
Conservative scenario
In the future, analysts expect to see a continuation in the growth of Russian agricultural holdings, though not at such a frenetic pace.
"Depending on the way the public debate revolves around the new sanctions, Russian agro-industrial complex shares can still grow a bit, but the first psychological boost has actually worked out," says Ilya Balakirev, chief analyst at UFS IC.
"The real economic impact will depend on how quickly substitutes can be found for suppliers who have fallen under sanctions."
However, according to him, the current year is likely to end on a positive note for many Russian food producers, but to remain positive for next year, it is too early to say.
"Most companies in the sector, apart from the sanctions and the possible positive effects, do not look too good," says Balakirev.
Long-term prospects
According to him, most likely foreign investors will be more interested in direct investment in Russian agriculture.
"However, it will be important when the sanctions are lifted, whether this success is here to stay. Agricultural business is not the fastest in terms of growth, and one shouldn't invest in it guided by short-term market sentiment," said the expert.
Balakirev argues the situation may become more transparent if parallel long-awaited measures to support agriculture are taken – this could be a long-term driver for stock quotes, and could even herald the rise of new names on the market.
In particular, on August 12, Russian Prime Minister Dmitry Medvedev instructed the government to increase funding for the state program for the development of agriculture because of the 'food sanctions'. According to Medvedev, in fact the initiative is aimed at creating a new state program for the development of agriculture.
All rights reserved by Rossiyskaya Gazeta.