Following the ban on food imports with the EU and the U.S., the Russian authorities have started looking for new suppliers. The government's primary expectations are to secure supplies from Belarus, Kazakhstan, China, Switzerland, and Latin America as well as to establish more production inside Russia.
According to official statistics, Russia imports some $40-billion worth of agricultural products. "The sanctions introduced by the Russian authorities will affect about 10 percent of agricultural exports," says UFS IC chief analyst Alexei Kozlov.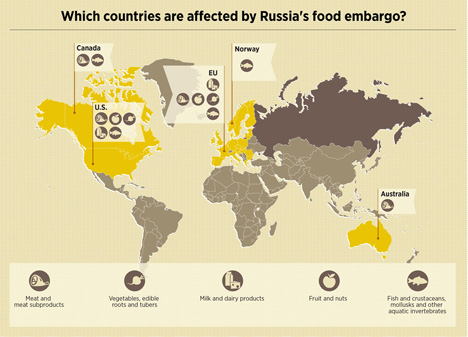 Import substitution
The analyst sees two ways out of the situation, the first being to replace the whole or part of the affected imports by supplies from other countries. "This route is the simplest and fastest but it fails to address many problems. It preserves our country's dependence on foreign producers, does not promote the development of the domestic agricultural sector or create new jobs," Kozlov points out.
The other way out, he continues, is to substitute imports with domestic produce. "This path will be more difficult and requires capital investment but it is the most effective for the economy," he concludes.
According to the head of the Arkaim consulting company, Alexander Dorofeyev, there are some products that it will be difficult to substitute. These are mainly products from the premium segment, like some types of hard cheeses.
However, it may be possible to import cheese from Switzerland. As Swiss Cheese Marketing director David Escher told Bloomberg, Swiss businesses intend to make the most of the Russian embargo on food imports from the EU. For its part, Swiss meat producer Micarna has reported that Russian consumers show an interest in Swiss meat.
"Import substitution, however it is arranged, requires time, since retailers need to sign new contracts with suppliers, establish the logistics, while producers need to increase their output," Dorofeyev explains.
The production cycle for poultry takes about two months, he continues, making it easier to respond to changes in demand, whereas the production cycles for beef or pork are longer, so their substitution will require more time.
Dorofeyev believes that the fastest to be substituted will be those products that account for a small share of EU food imports, for example fish, only 13 percent of which is supplied from the EU. The process of substituting dairy products, fruit and vegetables will take longer.
State program
In 2010, Russia adopted its Food Security Doctrine, which outlines the goals for its food industry, prescribing that domestic producers should provide the country with all the necessary products. In particular, Russian producers should account for 95 percent of grain, 80 percent of sugar, 80 percent of sunflower and vegetable oil, 85 percent of meat and meat products, 90 percent of milk and dairy products, 80 percent of fish, 90 percent of potatoes, etc.
According to Dorofeyev, import substitution will be the most difficult to achieve in the meat industry – an opinion which is shared by Musheg Mamikonyan, head of Russia's Meat Union.
"Political disagreements have spilled over into the economic sphere and I sincerely hope that the sanctions may be reconsidered. Import substitution in the meat industry means a lot of hard work but the results may be amazing," says Mamikonyan.
He points out that in 2000 the Russian poultry market was 50-percent dependent on imports, whereas now the figure is just 10 percent. "A 10-15 percent share of imports is a good factor. It has a positive effect on competition and reduces price fluctuations. Each exporting country is at the same time an importer too," the expert explains.
Overall, according to Russian Deputy Agriculture Minister Dmitry Yuryev, there will be no disruption in food supplies. "A partial substitution will be achieved with supplies from other countries, including meat supplies: beef, pork, poultry," he says.
As for dairy products, the emphasis will be on Russian producers as well as those from Belarus and Kazakhstan. Although according to the executive director of the Russian Milk Union, Andrei Danilenko, the ban has affected 20 percent of all imports and about 10 percent of all products on the dairy market, he told RBTH that he was sure that "Belarus and South America can replace the whole of the required amount."
According to Danilenko, there are no risks in terms of meeting consumers' needs, however, meeting producers' needs is another matter. "We have a seasonal winter drop in milk production, and the level of support cannot ensure stable production. Whereas in summer, consumption is down while production is up," the expert says.
Therefore, Danilenko explains, it is necessary to increase domestic milk production before winter comes. Still, he warns, there is likely to be a seasonal price rise on dairy products.
All rights reserved by Rossiyskaya Gazeta.