Russia looks to lure Asian and Arab investors with debt securities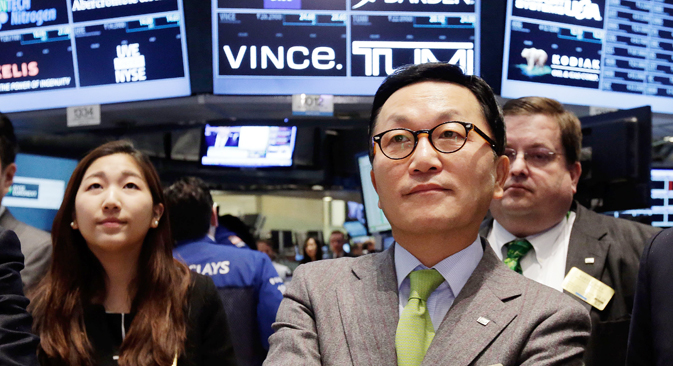 Central Bank seeking new investors in Asia as EU threatens further sanctions. Source: AP
The European Union may prohibit its investors from purchasing new issues of Russian bonds. In addition, approximately 26 percent of state bonds are currently in the hands of foreign investors. Analysts believe that about $10 billion can be raised through the Central Bank of Russia OFZs (Federal Loan Obligations) on the Asian market.
Against the backdrop of EU and U.S. sanctions, Russia's Central Bank is aiming to attract investors from Asia and the Arab countries to Russian Federal Loan Obligations (OFZs) and corporate debt in rubles, according to a report in business daily Vedomosti.
"Now that we have certain difficulties in accessing long-term financing markets, we are undergoing a change of priorities with the aim in view of diversifying investors in Russian debt securities," said Sergei Moiseyev, the director of the Central Bank's Department of Financial Stability.
Western markets are closed for the time being to state-owned banks, Gazprombank, the large oil company Rosneft, and the largest private natural gas company Novatek. In the next round of sanctions that the EU is preparing to introduce, European investors may be blocked from buying new OFZs. In these circumstances, the Central Bank, according to Moiseyev, intends to work with key players to promote Russian securities on Asian markets.
The kinds of investors expected
To begin with, the Central Bank wants to promote debt securities in key Asian centers - Singapore, Hong Kong, Shanghai, and Tokyo - where the main pools of liquidity of sovereign funds and funds specializing in developing markets have accumulated.
"If this experience is successful, then the second largest center of accumulation for such resources is Islamic finance, the sovereign funds of the Arab world - Saudi Arabia and Qatar. This means a change in the composition of investors in Russia," said Moiseyev.
According to data from the Central Bank, in July 2014 non-residents had 25.6 percent of the OFZs (945 billion rubles according to face value – around $25 billion). In addition, foreigners prefer OFZs at a maturity of 5-7 years (more than 40 percent) while the major domestic investors – banks – held 70 percent in short-term bonds (maturing in a year).
According to Investcafe analyst Timur Nigmatulin, the Central Bank's initiative has good chances of success. Russian debt securities, primarily long-term ones, will be of interest to Asian investors.
"However, despite the fact that the Asian market is less dependent on American pressure, the rates on Russian bonds are likely to be higher than they were half a year ago," he notes. According to Nigmatulin, taking into account the region's own needs for capital, the volume of investments from Asian funds will not be large - from 10 to 20 billion dollars.
The potential for investments from Asian institutional investors in OFZs can reach tens of billions of dollars, estimates Dmitry Dudkin, an analyst at URALSIB Capital.
"The Asian and Arab sovereign funds have immense available reserves and their country diversification is of interest there," agrees Kira Yukhtenko, an analyst at the brokerage firm FBS.
Yukhtenko notes that in recent years, China and Japan have actively invested in the Eurozone. However, the announcement in early September about the easing of European Central Bank policy has pushed down the yield of Eurobonds. Meanwhile, the yield of Russian bonds is now high, and this is the main competitive advantage for Russian securities, she says.
All rights reserved by Rossiyskaya Gazeta.