Russia to look for new technologies beyond United States and EU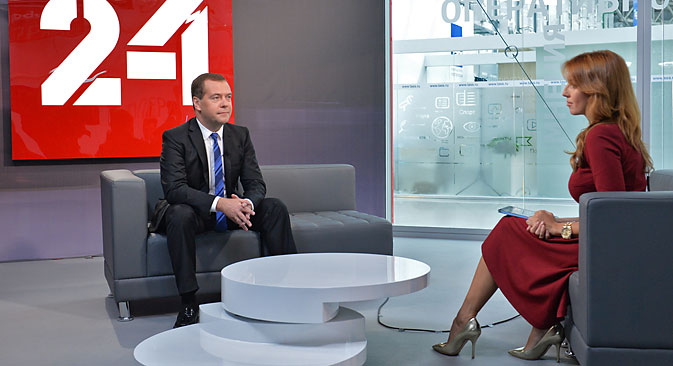 Russian Prime Minister Dmitry Medvedev gives an interview for Rossiya-24 TV Channel at the Expo Center in Sochi's Olympic Park, on Sept. 20. Source: Alexander Astafyev / RIA Novosti
Prime Minister Dmitry Medvedev has ordered Russian trade representatives abroad to source new technologies outside the U.S. and the EU. In addition, Russia has already allocated $480 million to set up an industry development fund to provide support specifically to medium-size businesses interested in raising pre-bank financing.
Prime Minister Dmitry Medvedev has instructed Russian trade representatives abroad to focus on sourcing new technologies outside the United States and the European Union.
"The situation with sanctions should be used to find new opportunities for growth. It is a certain protectionism that we would never have resorted to had we not been put in these conditions," he said at the Sochi Investment Forum.
In particular, Medvedev continued, one of the areas for development in view of the sanctions should be the creation of Russian technologies as well as a search for alternative supplies abroad.
"I have encouraged heads of our trade missions abroad to search for new suppliers of high-tech equipment," the prime minister added.
In addition, he said, Russian enterprises are quite capable of developing technologies inside the country. To that end, an Industry Development Fund will be set up to support medium-size businesses in Russia interested in raising pre-bank financing. The state will allocate up to 18 billion rubles ($470 million) for the purpose.
"A favorable opportunity always opens up among difficulties and problems, and one should seize it," Dmitry Medvedev said.
Impact of sanctions
The new sanctions against Russia announced on Sept. 14 by the U.S., following similar steps by the EU, affect not only state-owned oil companies Rosneft and Gazprom Neft but also privately-owned Lukoil and Surgutneftegaz.
The U.S. Department of Treasury explained that the ban concerns the export of technologies and services in support of exploration or production for Russian deepwater, Arctic offshore, or shale projects that have "the potential to produce oil". The U.S. and EU sanctions restrict the affected companies' access to the deliveries or re-export of goods, services and technologies for offshore and shale oil production.
"The latest package of sanctions imposed by the U.S. was largely intended to show that no company can feel safe. Where previously all the restrictions were imposed against companies and banks closely affiliated with the state, this time around pressure is being exerted on private companies too," says Finam analyst Anton Soroko.
He points out that to a certain degree these latest bans run counter to the official position of Western countries whereby sanctions are presented as a weapon against Russia's policy. Soroko points out that this should mean that they affect the state rather than private companies.
Ilya Balakirev, chief analyst with UFS IC, agrees. "Lukoil has traditionally been considered a model of private Russian business: a big free float, low involvement in politics, high transparency, zero state ownership, etc."
At the same time, he points out, the company is developing offshore fields in the Caspian and has announced a number of joint projects with European companies to develop tight reserves. "It may have to abandon these projects. However, they involve negligible production volumes, given the company's size," Balakirev adds.
Scale of impact
According to experts, the ban on the export of technologies first and foremost hits Rosneft, which controls 44 offshore areas with reserves of 42 billion tons of oil equivalent. The company has already started operations at 23 of them.
In 2011, Rosneft signed an agreement with ExxonMobil on oil production in the Kara Sea and the Black Sea. According to Bloomberg, ExxonMobil may suspend exploration at the Universitetskaya-1 well in the Kara Sea, in which case Rosneft will have to compensate the U.S. company for funds already spent on exploration (up to $3.2 billion).
The total amount of Lukoil's explored reserves in the Caspian Sea is about 630 million tons of oil equivalent. In addition, in 2014, the company signed an agreement with France's Total.
Anton Soroko points out that all the introduced sanctions have an important proviso: They cover only new contracts and do not apply if framework agreements were signed earlier. Thus, according to him, it cannot be said that Russian companies have been deprived of technologies: The restrictions do not apply to earlier signed agreements.
"Russian oil and gas companies are in a somewhat better position than companies in other sectors. This is mainly due to the fact that Russian energy exports are very important for our Western partners, so they do not dare introduce sanctions that would impose restrictions on the companies' current operations," says Soroko.
All rights reserved by Rossiyskaya Gazeta.