Sochi Investment Forum: Sverdlovsk Region committed to cooperation with U.S., Germany, and Asia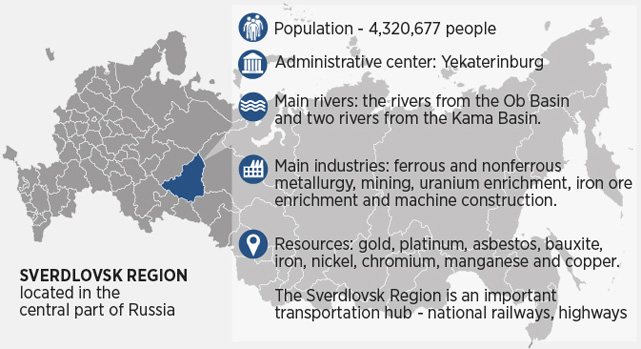 Despite the sanctions, large businesses from the United States and Germany are continuing cooperation with the Sverdlovsk Region in central Russia. For example, the region's trade with the U.S. doubled in the first six months of 2014. At the Sochi Investment Forum, governor Yevgeny Kuivashev told RBTH what other foreign investors Sverdlovsk Region is working with and in which sectors.
Sverdlovsk Region. Source: Natalia Mikhailenko
As of now, not a single joint venture with foreign companies has ceased operation; furthermore, not a single foreign participant has announced their withdrawal from joint projects. Many partners confirmed their commitment to joint work at the international Innoprom industrial exhibition, which was held in Yekaterinburg in July.
For example, Dr. Dietrich Müller, Siemens president for Russia, said the corporation was ready to implement new investment projects in the region: in machine engineering, energy, and medicine. The president of the American Chamber of Commerce in Russia, Alexis Rodzianko, also confirmed that the U.S. business community was interested in projects in the region.
Yevgeny Kuivashev. Source: RBTH
We are also consistently implementing all our projects with EU partners. In the third quarter, we expect to welcome a business mission from Italy, coming to the Sverdlovsk Region to discuss cooperation in the timber and wood processing industries.
We are preparing to receive the extraordinary and plenipotentiary ambassadors of Luxembourg, Mexico and France to Russia. The French trade mission Ubifrance is planning to conduct an economic forum in Yekaterinburg [called] Days of Russian and French Business Meetings, which is expected to be attended by delegates from over 30 companies. A Danone plant producing dairy products for children was opened in early September.
Mutual trade is another good example. In the first six months of 2014, the Sverdlovsk Region's trade with the U.S. doubled as compared with the same period last year, reaching $1.8 billion. Usually, we get such amounts closer to the year's end.
Total trade with EU countries has also increased, by 25 percent, amounting to $2.5 billion. We are also actively engaged in trade with China, Turkey, South Korea and Algeria. These countries are among our top 10 trading partners.
How the region will boost cooperation
The Sverdlovsk Region intends to further build up cooperation with foreign partners. Clearly, our focus is to set up production on our territory, introduce new technologies and improve productivity.
We are interested in African, Latin American and Central Asian countries. Potential areas for cooperation with them are the use of industrial infrastructure, participation in modernizing enterprises, developing natural resources, and supplying equipment for mining and oil and gas production.
Asian focus
It goes without saying that we consider Asia a strategic area for the region's foreign trade and economic efforts: China, South Korea, Japan. Back in 2013, we signed an agreement on setting up a joint Russian-Japanese enterprise, Ural Wiring Systems, to produce automotive wire harnesses for Renault and Nissan assembly plants in Russia. The company has already begun production.
Next year, the Sverdlovsk Region plans to sign a cooperation agreement with the South Korean province of Gyeonggi, one the most technologically advanced parts of that country. We signed a protocol of intent to that effect two years ago.
Of course, we are no less interested in contacts with the fast-growing economies of the other parts of the world: India, Brazil. These contacts are particularly important from the point of view of attracting foreign investors into promising infrastructure and energy projects in the Sverdlovsk Region. We are also very interested in Vietnam, where we already have some exciting contacts.
All rights reserved by Rossiyskaya Gazeta.