Sochi Investment Forum: Total and Lukoil plan new venture in Khanty-Mansiysk, despite sanctions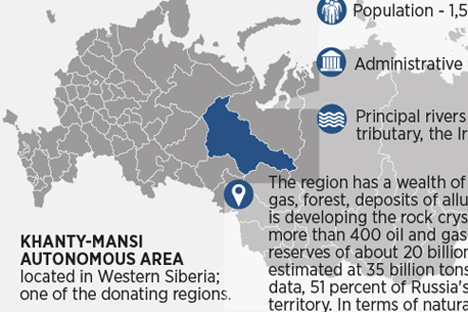 The subtleties of European law make the European Union's sanctions against the Russian oil industry more flexible. French company Total plans to take advantage of that flexibility. Natalya Komarova, governor of the Khanty-Mansiysk Autonomous Area, told RBTH at the Sochi Investment Forum which fallback solutions the region's government is preparing and which high-tech industries await Asian investors.
Khanty-Mansi Autonomous Area. Source: Natalia Mikhailenko
The fuel and energy sector is not anticipating any problems in the next two years. In the last year or two, our oil companies and their foreign partners have forged a whole series of technological alliances and joint projects. Rosneft is cooperating with Exxon Mobil, Lukoil with Total, Gazpromneft with Shell, etc.
Natalya Komarova. Source: RBTH
Oil and gas production contracts have been signed with our foreign partners for 2014, and the Western sanctions do not apply to existing agreements.
However, we need to understand that the sanctions are calculated to have a long-term effect, primarily on our future projects to develop tight oil reserves. But we need to take several nuances into account.
In the United States, for example, everyone acts strictly as it is written. Europe has a more flexible mechanism; decisions on sanctions can be made at the local level. In this case, a business has to prove that there is no need for sanctions or that sanctions do not need to be used for some particular reason.
For example, France's largest oil and gas company Total has already received licenses for several subsoil sections in our district, including ones that contain tight reserves. The French want to create a joint venture with Lukoil to work on these fields.
Right now they are working with our government and attempting to prove that it would be inexpedient for the national oil and gas company's project to be subsumed under the sanctions.
Prospects for import substitution with oil service equipment
It is indisputable that our fuel and energy sector depends on Western equipment suppliers, but import substitution is possible for the majority of positions in the next several years. There was a federal meeting on this topic in the Khanty-Mansiysk Autonomous Area on September 10.
We discussed the development of domestic test sites for developing Russian technology that would be able to produce tight reserves, as well as the drafting of a comprehensive federal document to engage those reserves in industrial development. This concept will be formulated on the principles of technological sovereignty, stimulating domestic producers, and incentivizing domestic oil service companies.
Furthermore, our Chinese partners could replace Western oil service technology. They have capabilities in exploring and developing oil and gas fields, refining petroleum products, and producing and selling petrochemical products. Our Chamber of Commerce, which has held negotiations on this topic, will intensify those talks.
Cooperation with Asia in other industries
Uzbekistan, Japan, India, South Korea, and Vietnam are in our zone of interest. In South Korea we are interested in deep processing technology for wild berries – the Koreans know how to make berry extracts and use them in medicines.
We are interested in working on IT and medicine with India.
As a whole, our relations with foreign investors – and with all the rest, for that matter – are distinguished by their stability. In the first seven months of 2014, our fixed capital investment edged up by 0.3 percent. Last year was a record in terms of investment, at $18.6 billion (720 billion rubles). Foreign investment totaled $1.766 billion.
All rights reserved by Rossiyskaya Gazeta.