Gold production: Too much of a good thing?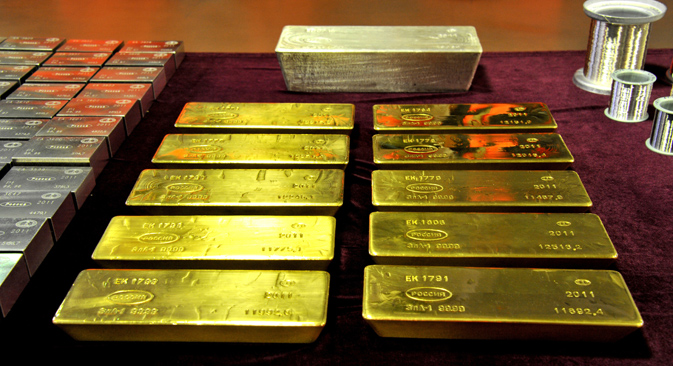 Analysts say gold producers must make tricky decisions on mergers and acquisitions. Source: Photoshot / Vostock-Photo
Russian gold producers may need to reduce their mining operations to prevent prices from falling further as the result of an increase in supply on the market.
Russia is the world's third-largest gold-producing country.
Over much of the past decade, the rising price of gold made it a safe haven for investors put off by the volatility of stock markets. But in 2013, gold prices began to fall, and many market forecasters today think this trend is set to continue – due in part to a glut of gold on the market.
Russian gold producers remain undeterred. By the end of 2013, for the first time in 25 years, Russia surpassed the U.S. in the total output of mined gold, reaching third place among gold-producing countries. Gold mining in Russia has been growing rapidly in recent years. According to the Federal State Statistics Service, also known as Rosstat, the amount of mined gold was 12% in 2013 and 7% in 2012.
According to the Russian Gold Producers Union, gold extraction and production in the first half of 2014 increased 27% in comparison with the same period the previous year and exceeded 116.7 tons.
"We see that the consumption of physical gold is stable," says Nikolai Zelensky, general director of Nordgold. "It is mostly consumed by developing countries such as China and India." In his words, for example, China's demand for gold in 2014 is approximately 1,000 tons a year, which is about 25% of world consumption.
"Bearing in mind that Russia has a series of projects that gold producers must implement in 2014-2015, gold production in Russia will continue growing in the upcoming four or five years," adds Mr. Zelensky.
Russian regions continue increasing their gold extraction. In particular, according to Vladimir Pechenyi, governor of the Magadan Region (the main gold-producing region in the Far East), the development of ore deposits will help the region mine up to 80 tons of gold a year.
By comparison, in 2014, the region plans to mine only 24 tons.
The increase in volume has done nothing to reverse the sharp fall in the price of gold in recent years. From 2012 to 2013, the average price of gold decreased 24%, while silver fell 38%.
In his interview with the Kommersant business newspaper, CEO of Polymetal Vitaly Nesis stated that if the market price for gold falls below $1,000 an ounce, some production operations will have to be closed. According to Mr. Nesis, economic incentive to launch new enterprises only exists only when the price of gold rises to $1,500-$1,600 an ounce. Therefore the recovery of the market will take place only after a worldwide reduction in the production of gold and silver, Mr. Nesis concludes.
On September 9, the price of gold on the cash market of precious metals in London was $1,256 per troy ounce. Meanwhile, according to data from the Russian Gold Producers Union, the break-even point for Russia's gold industry is about $1,200 a troy ounce.
Analysts say gold producers must make tricky decisions on mergers and acquisitions, and the subsequent closure of inefficient enterprises in order to reduce costs.
"I think that M&A activity will intensify in our sector," says Mr. Zelensky.
Many geo-exploration companies in the world now have promising projects which they cannot develop on their own, given the fall in market values. Those firms make likely candidates for entering into joint ventures, he says.
All rights reserved by Rossiyskaya Gazeta.