New stumbling block emerges in Russia-Ukraine gas dispute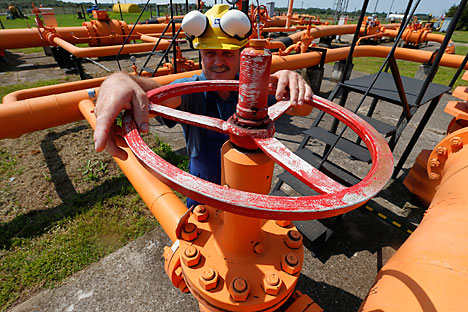 Gazprom rejects EU proposal to introduce gas intermediary as talks stall. Source: Reuters
Russia and Ukraine have once again failed to agree on the resumption of gas supplies, after Gazprom dismissed an EU proposal for a European intermediary be introduced to the supply chain to manage payments. Without funds, and in light of impending changes to the European Commission's negotiators, the conflict may not be resolved until the end of the year.
The European Union-mediated gas negotiations between Russia and Ukraine have broken down once again, despite apparent progress being made in talks last week. According to Moscow, the main reason behind the breakdown is Brussels' inability to find $1.6 billion for Kiev to make an advance payment to Russian gas giant Gazprom.
A week ago, following talks with German Chancellor Angela Merkel and French President Francois Hollande, Russian President Vladimir Putin said that the Europeans might pay off Ukraine's gas debt by issuing a bridge loan or organizing guarantees from the European Central Bank. However, not a single EU official has yet confirmed that Europe is considering this option.
European Commissioner Gunther Oettinger, meanwhile, has made it clear that Ukraine needs to find the money itself by using the macroeconomic aid already provided by the EU. "We will do everything we can in the next few days so that our Ukrainian friends find the specific amount that can be used to pay for gas," the European official said.
Kiev is listing other reasons for the failed negotiations. According to Ukrainian Energy Minister Yuriy Prodan, Gazprom is refusing to provide legal guarantees that the price will remain unchanged at $385 per 1,000 cubic meters and that the volume will be no less than 400 billion cubic meters until March 31, 2015. According to Kommersant, Gazprom interprets these demands as a ploy to weaken the monopoly's position in the Stockholm Court of Arbitration.
EU suggests intermediary option
The EU sees a company intermediary between Gazprom and Naftogaz as a potential way out. "We proposed the following: If Naftogaz is unable to pay, a European company can take on payment for this gas and later resell it to Naftogaz," Oettinger said. "It is also not ruled out that payment for the transit of Russian gas could be used for payment [for supplies to Ukraine]," he added. According to Kommersant, this proposal originated in Kiev and was part of the EU's and Ukraine's negotiating position after consultations between Oettinger and Prime Minister Arseniy Yatsenyuk on Oct. 20.
"The main reason behind the need for a European intermediary is that Gazprom doesn't want to include a point in the contract about responsibility for failure to supply fuel and penalties for it," a source at the Ukrainian Energy Ministry told Kommersant. According to him, Kiev is worried that Gazprom will not be flexible in boosting supplies if there is a sharp drop in temperature, which could lead to disruptions in gas supplies in Ukraine since "there is a minimum of gas in storage in the country" and it will be difficult to completely cover peak consumption.
A source familiar with the European Commission's position added that the Europeans are afraid to give money directly to Naftogaz: "The company is not transparent. There is an enormous amount of cross-subsidizing and a low level of consumer payment. It is unclear how to track it, where the money goes," the source said.
Gazprom turns down proposal
On Oct. 22, Russian Energy Minister Alexander Novak said that French company GDF Suez had been suggested as an intermediary. The company declined to comment.
Russian-Ukrainian gas relations have almost always been maintained through an intermediary scheme. At the beginning of the 2000s, Central Asian gas was delivered to Ukraine by Itera, which was later replaced by Swiss trader Rosukrenergo. The intermediary was eliminated with the 2009 signing of the current contract between Gazprom and Naftogaz.
However, Gazprom's reaction to the idea of an intermediary was openly hostile this time. Russia is not considering the option of hiring a European intermediary that would buy gas on the Russian-Ukrainian border, Gazprom CEO Alexei Miller said.
"Ukraine would benefit from an intermediary because the latter would shoulder all the risks of working with Gazprom, and Gazprom would no longer be able to persuade Naftogaz to sign a disadvantageous contract," said Yuriy Korolchuk from Ukraine's Institute for Energy Strategy. According to him, a European company like GDF Suez would be less susceptible to pressure from Gazprom and would be able to adopt a tougher negotiating stance.
Change of EU personnel ahead
Another round of talks is scheduled for Oct. 29. However, the current European Commission team's mandate expires on Oct. 31. This means that Oettinger, who has been European Commissioner for nearly a decade, will be replaced by a newcomer. His successor is likely to need time to be brought up to speed on the negotiations, which could drag out the talks even longer.
Meanwhile, for Naftogaz the heating season has de facto already begun. On Oct. 20, gas removal from underground storage facilities exceeded gas input. As they stand now, Ukraine's reserves in storage allow it to relax only until the New Year.
The full version of the text can be found at Kommersant.
All rights reserved by Rossiyskaya Gazeta.