A growing taste for dining out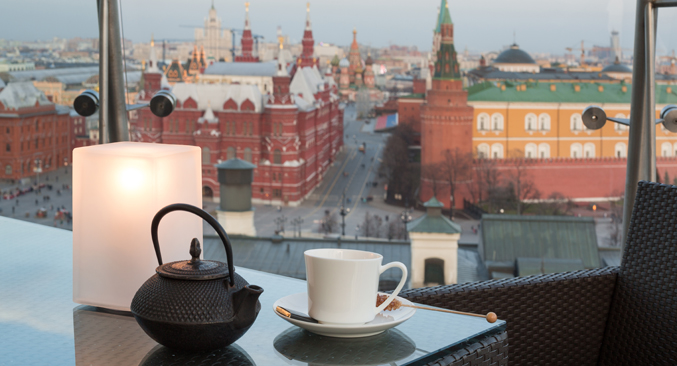 In Russia's capital, eating out is the new staying in. Source: Shutterstock
Moscow's dining scene has been transformed, with the number of restaurants growing between 15% and 20% per year. Yet economic uncertainties cloud the future.
While the average American adult goes to a restaurant about five times per week, in Russia dining out has never been much of a tradition.
In fact, just a few years before the Soviet Union collapsed in the early 1990s, there were only 87 registered restaurants in all of Moscow, a city where millions live.
An Associated Press article from 1981 noted that the Socialist capital had no Italian or French restaurants at all, and observed drily that the city's lone pizzeria, located down a narrow side street a few blocks from the Kremlin, "falls well short of world pizza standards."
In order to cater to local tastes, Chinese restaurants served dishes accompanied by big helpings of traditional Russian black bread.
But today, the city has been been transformed by a revolution in dining culture that has been gaining momentum over several years. Official city statistics now list 11,000 restaurants, a number that has been expanding 15 percent to 20 percent per year since 2000, according to Andrei Petrakov, executive director of the RestCon consulting company.
Meanwhile another American tradition, coffee, is also taking hold, as a trip to the local coffee shop starts to replace Russia's traditional mid-afternoon custom of enjoying a cup of tea in the office.
Seattle-based coffee chain Starbucks opened its first location in Moscow in 2007 and has since expanded rapidly, with 70 branches in Moscow today.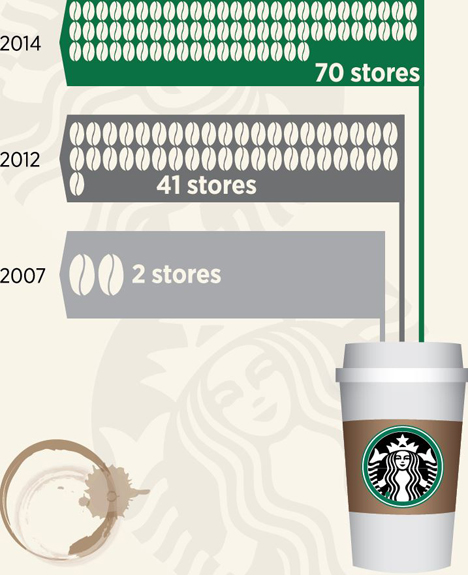 Drawing by Natalya Mikhaylenko.
"We believe people will develop an even stronger 'coffee culture.' The increasingly dynamic lifestyle in the city makes us optimistic about the potential of the market," says Hannah West, a U.S.-based representative of Starbucks' PR firm Edelman.
"We believe that there's plenty of room in the market where independent stores and small chains can continue to grow along with Starbucks."
Moscow residents still have some way to go before they catch up with American dining habits. According to the Moscow Department of Trade and Services, Muscovites spent 7.4 percent of their food expenses on eating out in 2013.
For Americans living in big cities, according to the U.S. Department of Agriculture, the equivalent figure is 76 percent.
And despite the rapid expansion in recent years, Moscow restaurateurs face challenges ahead.
Economic sanctions and the falling ruble have restricted Russians' purchasing power. Additionally, restaurants have been forced to change menus and suppliers, due to Russia's ban on food imports from the U.S and the EU.
In October, the Department of Trade released a forecast showing that, by the end of the year, the city's restaurant market may suffer a drop of as much as 15 percent.
Customer numbers have recently taken a hit because of the weakening ruble, the effect sanctions have had on the variety in menus and also a ban on smoking in restaurants, which came into effect this summer.
A spokesperson for the Federation of Restaurant and Hotel Owners told Russian daily Izvestiya that chains have stopped opening new outlets and have begun a review of the existing ones.
All rights reserved by Rossiyskaya Gazeta.