Kremlin to sell off 19.5% stake in Rosneft in bid to raise funds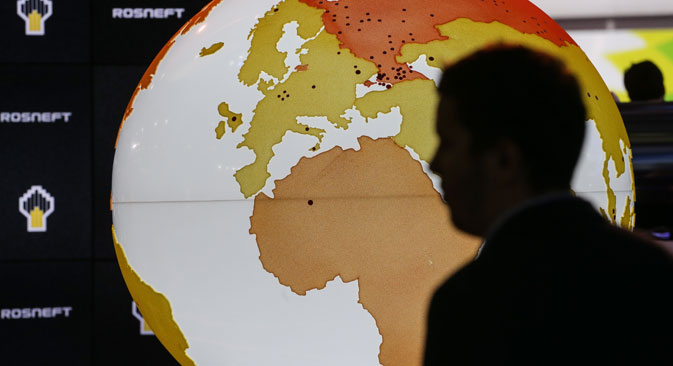 Privatization move could help soften blow of low oil prices and sanctions. Source: Sergei Savostyanov/TASS
Russian Prime Minister Dmitry Medvedev has signed an order to sell off 19.5 percent of the shares in Russia's largest oil company, Rosneft. According to experts, this might help the government generate extra cash amid falling oil prices and Western sanctions. However, this may not be the best time to privatize – at present, only Chinese investors seem to be interested in Rosneft.
Russian Prime Minister Dmitry Medvedev has signed an order to privatize 19.5 percent of Russian oil giant Rosneft, reducing government ownership in the company from 69.5 percent to 50 percent plus one share, Russian business newspaper Vedomosti reports.
According to the document, which Medvedev signed on Dec. 1, the shares will sell for at least the price they were offered during Rosneft's IPO in 2006. Russian Finance Minister Anton Siluanov told Russian news agency RIA Novosti that Chinese investors have already expressed interest in the company.
Ivan Kapitonov, an associate professor at the Russian Presidential Academy of the National Economy and Public Administration, described the part-privatization of Rosneft as "a necessary step aimed at raising next year's federal budget revenues and compensating for the losses from falling oil prices and the sanctions." He said the government has set the important goal of fulfilling its social commitments and other expenses.
A tricky asset
Anton Soroko, an analyst at the FINAM investment holding, said that the question was now when the placement would take place, since the government "has certain requirements" regarding the cost of the asset.
"The required amount of funds to be raised makes it impossible to make a placement in an unfavorable economic environment," he said. In light of the current economic situation, Rosneft should be privatized at a much lower price range than it was during its 2006 IPO, which would not satisfy the government.
Rosneft sold 1.4 billion shares for a combined $10.7 billion at its IPO in July 2006, at a placement price of $7.55 per share. However, Rosneft's market value in dollar terms has plummeted by 38 percent since the beginning of 2014. Now, according to Bloomberg, the company is worth approximately $50 billion, as its value has been hit by Western sanctions and decreasing oil prices.
Rosneft is also $60 billion in debt. Among the world's largest oil producers, it is behind only Brazilian company Petrobras in terms of its debt-to-income ratio. At the end of October 2014, Rosneft president and former Deputy Prime Minister Igor Sechin said that the 19.5 percent of the company could be privatized for at least $8.12 per share.
However, according to UFS IC's chief analyst Ilya Balakirev, Rosneft is currently worth about $4.5 per share at the current exchange rate because of the ruble's decline: "The company doesn't look particularly appealing right now, given its high debt burden and its need to refinance or pay off $30 billion in external debt by the end of next year," the analyst said.
Rosneft has already asked the government for help. The oil producer requested cash from the National Wealth Fund, which contains 2.4 trillion rubles ($51.4 billion) in oil revenues. However, the government decided that Rosneft's request did not comply with the fund's investment rules and denied its application.
New prospects
In 2012, Medvedev initiated a large-scale privatization program that the government adopted the same year. However, only 7.6 percent of Russia's largest bank, Sberbank, was privatized, while the state's ownership in another large bank, VTB, shrank from 85.5 percent to 60.9 percent.
Ivan Kapitonov said Russians can generally expect waves of privatization in the near future, which will affect other companies such as Russian Railways (RZD). Sberbank might also be further privatized.
However, Anton Soroko from Finam pointed out that investment in state-run companies generally looks somewhat worse than the market right now, because investors include political risks in the price, and they don't foresee those risks easing up anytime soon.
Besides that, according to Balakirev from UFS IC, the forex market reflects the low investment appeal of Russian assets: "The ruble's collapse vividly speaks to the fact that Russian assets are unappealing to investors," he said.
"Given that the government does not want to sell assets on the cheap, it is unlikely to find very many investors with a desire to invest. But two-sided deals with political overtones are entirely possible," he said.
All rights reserved by Rossiyskaya Gazeta.