Corporate parties fall victim to crisis as Russian firms look to economize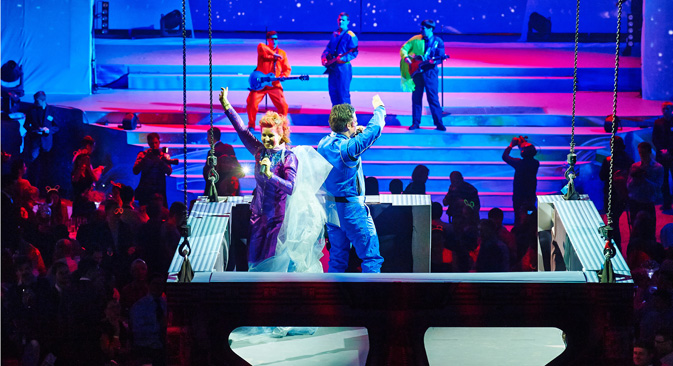 Kaspersky Lab's corporate party in 2014. Source: Press photo
There won't be any red caviar or live bears for New Year's this year. Russian companies – especially those affected by the sanctions – are either canceling their corporate parties or trying to find ways to save money, as holiday budgets are slashed by nearly 40 percent.
The economic crisis is forcing Russian companies to make an unprecedented move – deprive their employees of a New Year's office party. Companies tightened up their purse strings but still staged New Year's celebrations for their employees during the 2008 crisis. But this year, some companies have canceled their holiday parties altogether.
Luxury in the past
Before and after the 2008 crisis, after the economy had recovered, companies surprised their guests with luxurious banquets featuring an abundance of red and black caviar, or with original ideas, such as circus shows, inflatable blimps, 3D pictures, or a party at a skating rink or on haystacks. Three Moscow-based event agencies told RBTH about their most memorable holiday party orders. According to them, one client wanted to host a party in a hayloft and bought bales of hay and made imitation fires to create the atmosphere of a musical festival in the countryside. Another company hosted a gypsy-themed holiday party, with a real gypsy encampment, a bear cub, and geese. The security guard at the entrance to the business center where the office party was held refused to let the performers and animals inside. Another client invited an elephant to its New Year event, which cost 6,000 euros for the first hour and 5,000 euros for every subsequent hour.
"The percentage of clients that have decided not to hold New Year's events this year isn't very high – just 2 percent. But this is complete nonsense in our practice. We've never seen anything like it before," said Daria Mashina, co-founder of event agency De'MonAngel.
Even large state-run banks have been abandoning their New Year's plans. Head of the art group ALICESHOW Alisa Sumenkova said that some of the top 10 Russian banks (VTB, for example), which previously spared no expense on entertainment, have completely scrapped their New Year's parties this year.
According to the website zakupki.gov.ru, where government tenders are announced, state-owned companies have not placed any orders for corporate parties this year, with rare exceptions. For example, Sberbank, Russia's largest bank, has refrained from spending after shelling out 13 million rubles ($394,000 at the December 2013 exchange rate) on last year's New Year's events in the company of Russian celebrities.
The bank spent another 20 million rubles ($606,000) on a holiday event for employees' children last year. But this year Sberbank decided to slash its children's holiday budget in half. What will happen to its adult holiday budget remains a mystery.
Another way to cut costs is to have employees cover a portion of the expenses. Approximately 3 percent of companies have taken that route this year, and the number continues to grow. This is confirmed by players on the event market – the employer pays 50-70 percent of the budget, and the employees cover the rest.
Saving on status
Employers whose workers are their fixed capital are fighting for their employees' loyalty even in crisis, while simultaneously trying to optimize expenses. Holiday budgets are shrinking by an average of 20-40 percent this year, according to event agencies. "They're saving money on status – the level of the restaurant and the stars they invite, etc.," said Natalya Suslova, who heads communications agency Reputatsiya.
Banquets are being replaced with buffet tables, which are being arranged with no frills. The same goes for New Year's event programs. According to players on the entertainment market, demand is growing for corporate parties with teambuilding elements.
"For example, culinary corporate parties in the form of master classes and interactive formats like intellectual games and quizzes are growing in popularity," said Suslova. One corporate party involved training with horses, where employees learned to ride in a simulation of working with difficult colleagues.
"Russian clients are facing more practical challenges with a very limited budget," said Nikolai Anokhin, general director of event agency RED Republic.
Excess is not going away
The latest trend is interest in various types of technological entertainment, such as virtual reality glasses, video projections, and the key hit of the season: robots that measure anywhere between 12 inches and 8 feet tall.
"These are miniature radio-controlled robots and can be rented for 20,000-30,000 rubles ($500-$700) for an evening in a set (from two to six robots per location)," Anokhin said. Corporate party organizers can put together a real show with the larger models (2 to 2.5 meters) – the robots can dance, answer questions, and perform other tasks. Companies are charged about 150,000-200,000 rubles ($3,000-$4,000) per robot.
In some cases, companies still prefer to throw a spectacular holiday party. This year, a foreign company bought several thousands of flowers and designed a special glass marquee that had to be driven several thousands of kilometers outside Moscow.
All rights reserved by Rossiyskaya Gazeta.