Russian economy must 'adapt' to new conditions, says Central Bank head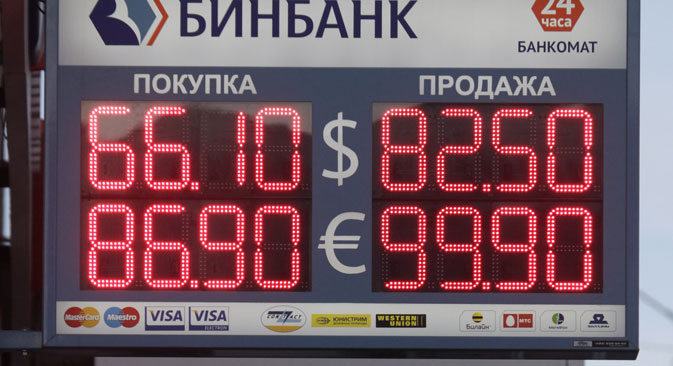 Despite Russia's Central Bank stepping in to raise interest rates to 17 percent after a late-night emergency meeting, the ruble continued its freefall against the U.S. dollar and euro on Dec. 16, reaching a low of 100 rubles to the euro and surpassing 80 rubles to the dollar. Central Bank head Elvira Nabiullina says Russia will have to learn to 'live in a new reality.'
Ruble hits lows of 100 against euro and 80 to dollar despite intervention. Source: Reuters
The chaos on Russia's financial markets continued as the already battered ruble plummeted to new lows against the dollar and euro on Dec. 16.
The ruble slumped to a rate of 100 rubles per euro on the Moscow Stock Exchange at 15:09 MSK, before rallying to 91 rubles against the euro at the time of writing. Meanwhile, the dollar broke the 80-ruble barrier before falling back to 72 rubles.
The ruble began to fall sharply against foreign currencies on Dec. 15. At the moment of writing, the ruble has fallen by 24 percent against the dollar and 25 percent against the euro since the morning of Dec. 15.
On Dec. 15 the ruble lost more than 10 percent of its value against the dollar and other main currencies – the greatest single-day loss on the markets since 1999.
After an emergency meeting in the early hours of Dec. 16, Russia's Central Bank responded by hiking interest rates from 10.5 percent to 17 percent with immediate effect – the sixth increase this year. However, the measure appears to have had little effect.
The Central Bank of Russia views the situation in the currency market as critical, the bank's first deputy head, Sergei Shvetsov, said at a roundtable on financial markets on Dec. 16.
"The situation is critical. A year ago you could not have imagined what is happening today in your worst nightmares. But unfortunately, we cannot always foresee even the short-term prospects of our financial market," said Shvetsov.
"Many participants are in a difficult situation as a result of today's events. What is happening today and has happened in recent days could have various consequences," he said.
Meanwhile, head of the Central Bank Elvira Nabiullina said on Dec. 16 that the weakening of the ruble exchange rate is a signal for the Russian economy to adapt to new conditions.
In her opinion, the weakening of the national currency is taking place primarily due to the influence of external factors - the slump in oil prices and Russian banks' limited access to international markets.
"We must learn to live in a new reality, to orient ourselves to a greater extent to our own sources of financing and give import substitution a chance," said Nabiullina.
According to Russian Prime Minister Dmitry Medvedev, the government is scheduled to meet in the evening of Dec. 16 to discuss the state of the financial market.
The slump of Dec. 15-16 makes the ruble now officially the world's worst-performing currency of 2014, surpassing even the Ukrainian hryvnia.
All rights reserved by Rossiyskaya Gazeta.