BP could enter new deal with Rosneft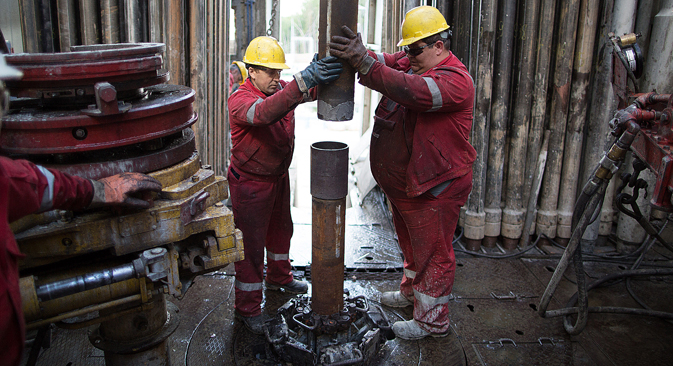 BP's willingness to pursue the new arrangement with Rosneft in 2015. Source: Getty Images / Fotobank
Participation in the new joint venture to develop a large oil and gas deposit in Eastern Siberia would not violate sanctions.
BP is said to be discussing a new deal with Russian state-owned oil major Rosneft to develop the Taas-Yuriakh oil field in Eastern Siberia. The deposit contains 135 million tons of oil reserves, as well as more than 155 billion cubic meters of gas. BP, which is already Rosneft's largest private shareholder with a 19.75 percent stake in the company, could buy a 20-percent share of the project.
BP's willingness to pursue the new arrangement with Rosneft even while the Russian firm is subject to US and EU sanctions could be part of an effort to strengthen its positions in Russia while competition is low.
Sources familiar with the deal say it is worth between $700 and $800 million. For now the parties have signed only the preliminary agreement. The deal will be concluded in the beginning of 2015. Both Rosneft and BP have declined to comment.
Rosneft had been looking for a strategic partner to develop Taas-Yuriakh since 2013. China's CNPC seemed to be the most probable candidate, but the companies failed to agree on the terms. According to Kommersant sources, the Chinese were offering "too little." Another source said that Rosneft intends to continue negotiations and bring either CNPC or India's ONGC into the project as a third partner.
Valery Nesterov of Sberbank Investment Research said that BP's decision was not surprising, as the company had already made substantial investments in Russia and was facing a decision to either increase investments or get out completely. Nesterov added that with many companies leaving due to the sanctions, those that have remained will have new opportunities.
A Kommersant source close to the deal said that sanctions will not affect the project. "The company is not violating any sanctions, because these are not shale or shelf deposits," the source said. BP must receive approval for the deal from British regulators, but Kommersant sources do not expect any problems, saying that everything has already been discussed.
This article has been abridged from the original Russian.

All rights reserved by Rossiyskaya Gazeta.