What does S&P downgrade mean for investment in Russia?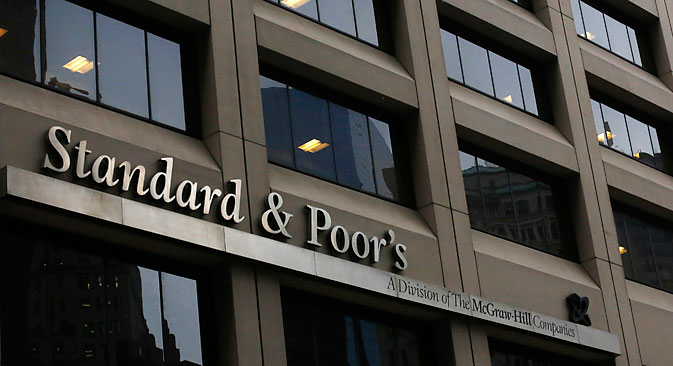 Moscow-based experts react after the country's credit rating is cut to junk. Source: Reuters
International ratings agency S&P has downgraded Russia's credit rating to junk. Now Russia is awaiting an asset sell-off by foreign investors. Despite the current gloom about Russia's economic prospects, some experts see the downgrade as an incentive for foreign companies to develop production in the country.
Standard & Poor's has become the first of the big three international credit ratings agencies to downgrade Russia's rating to junk status. On Jan. 26 the ratings agency assigned Russia a BB+ rating with a negative outlook, the implication being that S&P may slash Russia's rating even further in the future.
"The downgrade reflects our view that Russia's monetary policy flexibility has become more limited and its economic growth prospects have weakened," said the ratings agency in a statement.
"We also see a heightened risk that external and fiscal buffers will deteriorate due to rising external pressures and increased government support to the economy." In 2014, Russia's reserves shrank by nearly 40 percent, or $113 billion.
What comes next?
Moscow-based experts told RBTH that S&P's decision came as no surprise to investors, so a panicked flight from Russian assets is unlikely. Russian companies that received loans in the West through bond issues are the most at risk. Loan covenants – the conditions for an early debt repayment – might come into effect for these companies. According to the terms stipulated in loan agreements, creditors can demand early redemption if a country's rating is downgraded to junk status. If that were to happen, it could cost Russian companies up to $20-$30 billion, as predicted by Russian Economy Minister Alexei Ulyukayev at the end of 2014.
"The situation will become critical if Moody's or Fitch lower their ratings," Associate Professor at the Russian Presidential Academy of the National Economy and Public Administration Sergei Khestanov said, referring to the other two of the "big three" ratings agencies. "Often, the key condition for early redemption is a downgrade by two of the three agencies," said Khestanov.
According to Alexander Abramov, senior research fellow at the Center for Financial System Analysis at the Russian Presidential Academy of the National Economy and Public Administration, there is a risk of investors exacerbating the situation by withdrawing further from the market.
"The ratings of the other two international agencies are still investment-grade. But still, non-residents might intensify withdrawals from the stock market and Russian debt market, which will result in lower stock indices and higher rates on the debt market," said Abramov.
The closure of foreign debt markets to Russia could also threaten its investment rating.
Additionally, S&P's decision will put added pressure on the ruble, experts say. According to Alfa Bank's Chief Economist Natalya Orlova, the ruble could depreciate another 3-5 percent in the aftermath of the downgrade.
Who will stay in Russia?
In Khestanov's opinion, the falling ruble could provide an added incentive to producers. "A weakened ruble will notably boost the competitiveness of Russian products, especially those made by foreign enterprises with a high degree of localization, by more than 50 percent," he said, adding that Russia's downgrade will not be an obstacle to companies that want to open manufacturing facilities in Russia.
Abramov agreed. "The majority of manufacturers will continue to operate in Russia. The same goes for financial structures. Their revenue from investment and banking services might shrink, but our foreign partners in Russia have quite a long business-planning horizon in order to avoid a nervous reaction to two-to-three-year changes in outside conditions.
"Companies that wanted to quit their business in Russia because of geopolitical factors have already done so," he said.
All rights reserved by Rossiyskaya Gazeta.