How Russians are surviving the crisis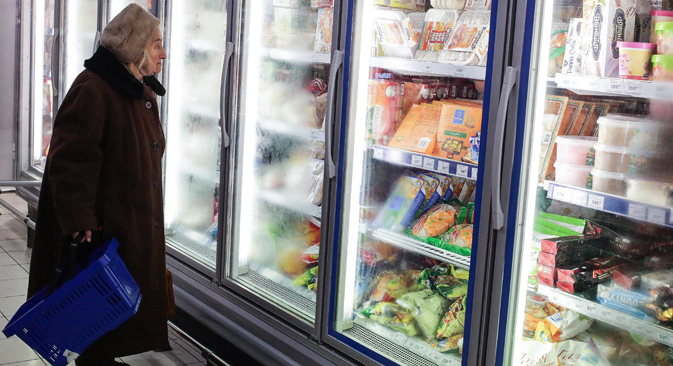 Residents of Russian provinces outside of Moscow and St. Petersburg have started feeling the impact of the weak economy on their pocketbooks. Experts say that all social strata, rich and poor alike, are already beginning to suffer as a result of the economic crisis. Retirees and families with children are the most vulnerable. However, experts are not ready to predict a rise in protest activity as a result of economic hardship. In their opinion, the crisis might actually cause Russians to rally around the government.
Russians are already starting to feel the pinch from the economic crisis. Rising inflation, a depreciating ruble and Western sanctions have had a destabilizing effect on the Russian provinces. This conclusion comes from the independent St. Petersburg Policy Foundation, which monitors the socio-political stability of the regions on a monthly basis. In December 2014, for the first time in the history of the monitoring, which began in fall 2012, not a single region improved its economic results. The average score in December was its lowest in seven months. But the discontent Russians are experiencing over rising prices is generally only reflected virtually on the internet and not physically in street protests.
Rising prices
On Facebook the majority of complaints posted by Russians have dealt with growing food prices. "Everything is constantly getting more expensive, every three to five days on average," Inna Vorontsova from Ufa, a city 1,342 kilometers east of Moscow, posted on Facebook. "Store shelves aren't as full as they used to be."
Volgograd, 959 kilometers south of Moscow, was among the least stable regions in the Foundation's ranking. In that southern city, food is not the only item to be affected by increasing prices. "Prices have really increased at stores," Yekaterina Ezau wrote on Facebook. "I noticed that plane tickets have gotten 20 percent more expensive."
In Moscow, technology has been the hardest-hit sector. "A 25,000-ruble ($379) laptop now costs 36,000 rubles ($545)," Irina Amonina posted on Facebook. "The cost of necessities has risen by a quarter."
In the Moscow suburbs, according to Snezhana Shabanova, the average trip to a chain supermarket was previously 1,500 rubles ($23), but has since climbed to 2,500 rubles ($38). "I'm talking about any milk, kefir, or bread that people buy regularly," Shabanova wrote on Facebook. "And we also have a mortgage denominated in dollars."
Crisis for both rich and poor
Head of the St. Petersburg Policy Foundation Mikhail Vinogradov stressed that all social strata – rich and poor alike – will eventually suffer from the crisis. Commenting on the economic situation to RBTH, he said that import-dependent regions will not be the only ones to feel the blow. "Exporting regions should gain from the devaluation, but the international sanctions were biting, so it remains to be seen whether they will manage to ride the wave of import substitution," Vinogradov said.
Economic geographer and Professor at Moscow State University Natalia Zubarevich said retirees and families with children will suffer the most from the economic situation. "Even before the crisis, the poverty level was highest among families with children, so now they will experience the most dramatic social deterioration," Zubarevich said, adding that retirees are another vulnerable segment of the population. "The cost of medication is not included in their cost of living. Drug prices are bound to soar because most of them are imported."
Protest or apathy?
Both Vinogradov and Zubarevich said the current crisis differs from what Russia experienced in 2008-2009. According to them, this time around it will be more prolonged and more severe. However, neither expert can assess the likelihood that discontent with the economic situation will migrate from the online environment to the streets.
"It is not clear now whether Russian sentiment will turn into a wave of negativity against the authorities or passive protest and apathy over disappointment with how things are going," Vinogradov said. He said people might decide to rally around the government as a means of protection against economic problems.
Professor Zubarevich thinks Muscovites will be psychologically less capable of getting through the crisis than provincial residents. "People from villages and small towns survive on the land, so they will plant more potatoes and tomatoes," Zubarevich said. "They will not have to change their way of life [as much]." However, Russians from big cities, "who are accustomed to traveling places on vacation and buying cars," will have to change the way they live. In Zubarevich's opinion, more than just unrest can be expected in Russia's metropolises. "As a rule, people there [in big cities] always look individually for an exit strategy from their problems. They don't tend to find cohesion the way that residents of smaller cities do," she concluded.
All rights reserved by Rossiyskaya Gazeta.