Russia's wine market facing new reality as imports dry up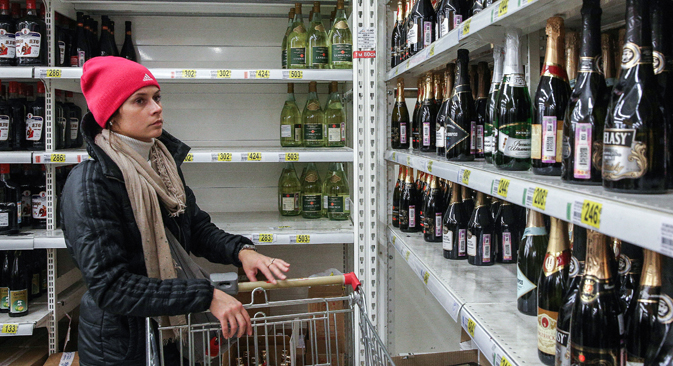 Source: Mikhail Pochuev / TASS
Russian importers are being forced to cut shipments of foreign wine, with a 44 percent reduction in wine imports in December 2014 as business was hit by the collapsing ruble. With a 30-50 percent increase in retail prices, only the most popular wines will be able to survive the crisis. However, industry sources say that Russian wine producers will have a chance to conquer new niches.
At the beginning of February, Rusimport, the Russian alcohol importer (Russia's second-biggest importer of French wines), announced the imminent bankruptcy of five of its companies.
In the difficult financial climate, the company has suffered from the impact of the ruble's plunge against major foreign currencies. In the middle of December a series of Russian importers, including Simple, Roust and Sinergia, were forced to halt the shipment of their products to contractors while they waited for the ruble to stabilize.
Many distributors work with deferred payments and settle their accounts with suppliers and customers according to the exchange rate on the day of payment. For example, businesses must currently pay two times more for wine that was imported in the summer of 2014 in respect to its cost back then (in the summer the euro cost 47 rubles, in December-January - 80-77 rubles).
Importers
Each company is seriously reviewing its portfolio, cutting back on rare types of wine, as well as on brands from smaller wine-producing nations that are not well promoted. According to industry observers, it is still too early to speak about whether certain countries may disappear from the market altogether. The risk group, however, may include small wine-producing countries such as Macedonia, Lebanon, Greece and Portugal, whose wines are not well-promoted on the Russian market.
"All importers will have to reduce their stock," says Irina Fomina, chairwoman at wine importer MBG. "Companies will leave those wines in their portfolios that have high rotation, those that can be sold quickly." About 15-20 percent of Russian consumers drink expensive wines. The others buy inexpensive and medium-range wines, 60 percent of which are Russian-produced.
Difficulties with American suppliers, meanwhile, began in the summer and grew progressively worse, with the stumbling block being the unwillingness of U.S. producers to relax the conditions of their rigid contracts and their almost complete refusal to give Russian companies credit. Given the cost of money, buying the wine on a prepayment basis was utterly impossible for Russian importers.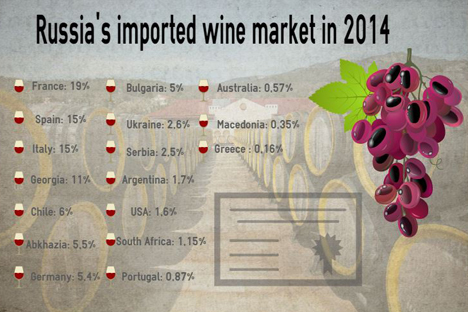 Click on the picture to enlarge. Source: CIFRA. Drawing by Roman Kiselev
A chance for Russian producers
According to the CIFRRA Research Center, there are approximately 70 companies that produce wine in Russia. Twelve of them produce expensive wines, while the others specialize in the inexpensive and medium-range segment.
Observers believe that inexpensive and medium-range Russian producers stand to profit from the problems with imports, while producers of expensive wines, especially from the Krasnodar Territory and the Rostov Region, can strengthen their positions in their segment. Due to the increase in prices, imported wines of comparable quality have already effectively moved into the sub-premium price segment and are thus becoming inaccessible for the majority of customers.
Despite these promising developments, however, domestic producers remain pessimistic. Today only 40 percent of Russian wine is produced from Russian grapes, while 60 percent is produced from imported grapes, mainly from South Africa, Ukraine, Italy, Spain and other countries.
"We are planning to cut back on a third of imported raw materials and switch to Russian production, in particular from Crimea," says Daria Domostroyeva, public relations director at Abrau Durso Wine Producer. However, this will not help to significantly cut down on increased costs: Abrau Durso buys its corks from Portugal, while the wire that secures the corks is made in Italy.
Domestic producers say that practically each element, from the bottle to the cork, is linked to exchange rates, thereby contributing to the price of the final product. For example, the label is usually made from Finnish paper, and even if the paper is Russian, then the ink used for the image on the label is Italian.
All rights reserved by Rossiyskaya Gazeta.