Russia still struggling to connect with Asian markets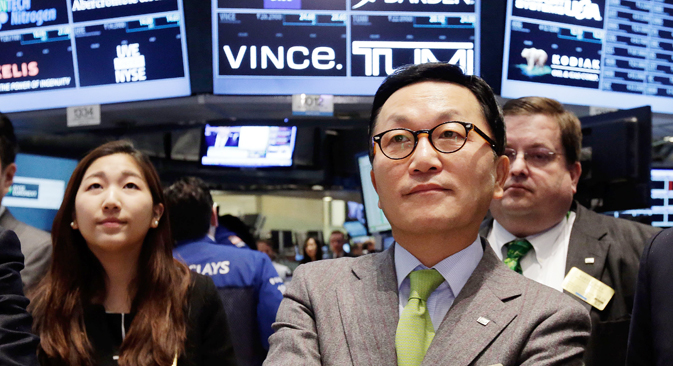 "Foreign companies still need to see, in practice, how the new PDAs (priority development areas) in the Far East will differ from the SEZs (special economic zones)". Source: AP
Despite numerous statements declaring Russia's "pivot to Asia," the country still faces challenges connecting the goals of the government with the needs of foreign investors.
Russian authorities never tire of repeating that the country's economy began expanding in the direction of the dynamic Asia-Pacific Region (APR) a long time ago. Nevertheless, all recognize that the real reorientation to the direction of Asia began started only in March 2014 – after the first Western sanctions were imposed against Russia over its behavior in the crisis in Ukraine. At first glance, there seems to have been significant progress in the past year, especially in the Chinese direction. However, a real "pivot to Asia" has not yet occurred.
Strategic priorities are not the same
According to experts from APR countries, Moscow's primary goal is to develop manufacturing, innovation and high technology sectors beyond the Urals. However, Asian investors are not very interested in these sectors – for them, Russia is primarily a supplier of natural resources.
"We must honestly admit that, for now, the Russian Far East is not of interest as a production base to Japanese companies," said Kunio Okada, director of the Japan Association for Trade with Russia and CIS countries (ROTOBO). "The main problems in working in the Far East are the small population, lack of sizeable internal regional market and high labor costs. Without solving these problems, attracting investments into production will be difficult, even if the Russian authorities are able to improve the business environment.
"On the other hand, the Far East and Siberia have a great natural advantage – the abundant natural resources. Investments into their development are very promising. It is important that these strengths become leveraged."
Chinese experts hold a similar view. "Of course, Chinese investors have an interest in the Far East. However, in Russia, there is no consensus about how to develop this strategic region, as the views of regional elites and Moscow differ," said Yang Cheng, Deputy Director of the Center for Russian Studies at East China Normal University. Then to this we can add the worries about such a sensitive issue as the so-called danger of 'significant Chinese migration.' Therefore, it is really hard to do that much here and now."
Taisuke Abiru, Director of the Russian Program of the Tokyo Foundation, is positive about some developments, but feels they need further definition. "The creation of priority development areas (PDAs), including tax incentives, simplifying management and reducing the administrative burden in the Russian Far East, can be viewed as a step in the right direction, when it comes to attracting Asian investors," Abiru said. "However, the creation of special zones is nothing new in the government's policy seeking to attract foreign investments and technologies. Therefore, foreign companies still need to see, in practice, how the new PDAs in the Far East will differ from the SEZs (special economic zones).
Two keys to success
According to experts, Russia must do two things to successfully attract Asian investors to the Urals. First, improve the administrative procedures and create a one-stop-shop for investor services. "China has already learned that in addition to high-quality consulting services, it is important that the authorities raise the level and efficiency of services provided to investors. If a mechanism was created where people could gather in one place and discuss all issues, and remove any barriers, such a system would be in great demand," said Yang Cheng.
Secondly, Russia must select sectors for its PDA program based on an analysis of the real needs of Asian markets. "The biggest potential, in my opinion, is found in co-operation in agriculture, especially in the production of soybeans and livestock," said Sheng Shilyan, chief researcher at the Center for the Study of World Problems at the Xinhua Agency. "Russia has manufacturing capacity, and China has a huge market, these two can be combined to form synergy. For example, three years ago, China was importing ecologically clean wheat from Japan at about 160 yuan ($25) per kilogram, and it was immediately snapped up. Last year it started importing bottled water from Lake Baikal – one small bottle cost a little over ten yuan ($1.60), and it sold like hotcakes. We need more such projects."
Alexander Gabuev is the head of the Russia in the Asia-Pacific Region Program at the Carnegie Moscow Center
This article originally appeared in Kommersant.
All rights reserved by Rossiyskaya Gazeta.