Russian wines remain rare and exotic for British market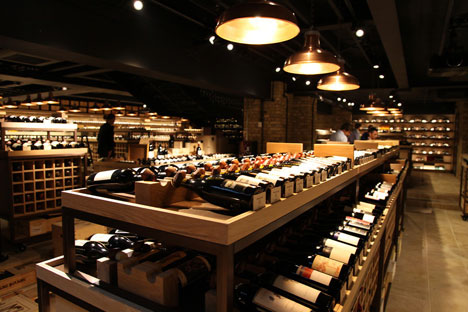 Inside the Hedonism Wines shop. Source: Konstantin Pinaev
In the last five years, wines produced in Russia have won more than 250 awards at top international competitions. But the British know little about Russian wines. RBTH sent its correspondent on a walking tour of London in search of Russian wines and those who have heard of such vintages.
Granville Murray, manager of the Jeroboam wine shop, in posh Belgravia, where many wealthy Russians live, is perplexed. "I have not been asked about this for a very long time," he says. "One of my biggest clients is Russian, but even he has never been interested in Russian wines."
The wholesalers at Majestic are just as ignorant: "Go to Berry Brothers and Rudd, which works with all the prestigious chateaux and will definitely have a reply to your exotic question," they say. At that mecca of London wine merchants, perhaps the most traditional and famous wine store in the UK, they also have no idea. "We don't work with Russian producers," manager, Javier Perurena, notes with what could be taken as a condescending smile. "If you are interested, we have several wines from Moldavia, which, by the way, is a very promising region."
Lone warrior
The next phase in the experiment is to turn to Google, which produces an amusing result. To the request 'buy wines from Russia in London' the search engine found articles on the Hedonism Wines shop, which belongs to a Russian businessman, Evgeny Chichvarkin (but no word was mentioned about the Russian wines themselves).
Chichvarkin's wine shop, created in pure Russian style of investing money, has been around for a couple of years. It entices wine lovers and passersby on Davies Street, Mayfair, with large glass window displays, unusual design - the subject of many trade awards and, for London, unusually long working hours: from 10am to 9pm. "Our customers are the "new Londoners;" they are perfectionists and don't like hassles or mistakes," says Chichvarkin, whose business was voted Decanter magazine Best Wine Shop, 2013. "Hedonism Wines presents more than 8,000 labels of various alcohol, including rare vintages such as Chateau Petrus or Chateau d'Yquem, which cannot be found anywhere else in London," he adds.
Vintage pessimism
Chichvarkin is pessimistic about Russian wines: "It is not easy to work with Russian producers. This is due mainly to Russian laws, which makes it difficult to export small quantities of wine." Chichvarkin says that he and his colleagues, famous sommeliers and buyers, have tried wines from several Russian wine producers. "Out of everything that we tasted, most of all we liked the Vedernikov wines," he notes.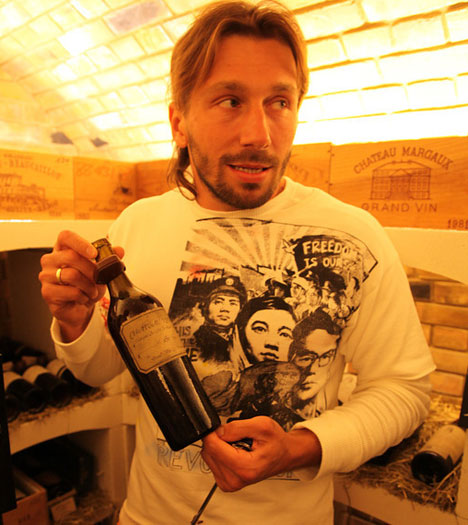 Evgeny Chichvarkin at the Hedonism Wines shop. Source: Konstantin Pinaev
Valery Troychuk, director of the Vedernikov Winery in Rostov-on-Don, southern Russia, dreams of seeing his wines in Chichvarkin's shop. But his vision has run into logistical challenges. "There is interest in our wines in London. Last year we received many medals in prestigious European contests, including a gold medal at the Mundus Vini 2014 for red wine from the indigenous Krasnostop Zolotovsky grape. But we still haven't found an advantageous way of exporting small quantities of wine."
From Russia with love
According to Russian analytical agency CIFFRA, in 2014, the share of worldwide alcohol exports from Russia for locally-produced still and sparkling wines was several tens of thousands of dal (decaliter - 10 liters), equal to several hundred thousand bottles. Exports of vodka or hard liquor, by comparison, amounted to more than five million dal.
Russian wine expert Denis Rudenko says the paucity of Russian wines abroad can be attributed to a lack of presence in the home market.
"Several stores in Europe and in the US have individual Russian labels such as Vedernikov or Abrau Durso (a famous brand of sparkling wine from Russia - RBTH), but only as samples of Russian exotica."
Russian producers don't have sophisticated export and international promotional schemes and would be better first more firmly establishing their products in the domestic market, he adds.
On the positive side, the collapse in value against foreign currencies of the rouble makes Russian wines more attractive, both for Russian customers, for whom imports have become very expensive, and for foreign clients, who prefer lower priced wines.
The next couple of years will be decisive for the Russian wine industry, experts say. Russia's current economic strategy of import substitution offers many opportunities to develop it. Challenges remain. The economic crisis means there is a lack of investment and shortage of reasonably priced credit.
Special thanks to Konstantin Pinaev (londopolia.com) and Paul Carroll (The Telegraph)
All rights reserved by Rossiyskaya Gazeta.