Milking Europe: Russian dairy technology targets EU farms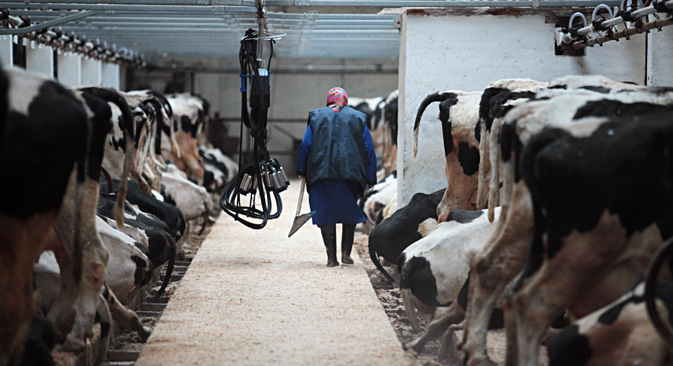 30Sec Milk founders say short distances for transporting milk from the farm to the consumer are one of their main profits. Source: Igor Russak / RIA Novosti
Physicist Alexander Belonosov has invented a system that prepares and packs pasteurized milk straight from the cow in just 30 seconds. Aimed at the European market, each unit will cost around £17,000.
It is what is says on the box: 30Sec Milk, the brainchild of Russian physicist and designer Alexander Belonosov and his business partner Andrei Kuteinikov, prepares milk from cow to carton in less than a minute.
In October 2012 it was granted a Russian "integral milking complex" and in March 2014 the pair patented the process in Germany, after spending five million roubles (£53,000) developing the process, of which £14,000 went on specialised Swedish components. A further five million roubles was invested in market research.
30Sec Milk is a tall metal box on wheels; milking is performed by vacuum pump. The milk, after passing through a filter, flows directly into a pasteuriser, located in the upper part of the apparatus.
Source: Youtube / 30Sec Milk
Hot and cold
Super-fast heating brings it up to a temperature of not less than 75°C in just 10 seconds. It then descends to a cooler below, where it is stabilised at between 3-5ºC.
The packing unit – a cartridge with sterile multilayer cartons – is located in the lower part of the equipment. As milk is pumped into the carton detailed information about the time of milking, cow number, farm, fat content and best-before date are printed on its outer shell.
30Sec Milk will soon start printing QR-codes on the packaging for buyers to see more detailed information on their Smartphone screens, including an image of the cow, its age and breed.
The time delay between the milk flowing from a cow's udders and the moment when the farmer can pick up the finished carton is less than a minute. Each unit will have the capacity to service 24-30 cows during a working day.
Europe bound
"The European Union has 1.6 million dairy farms with an average herd of 42 cows," Kuteinikov says.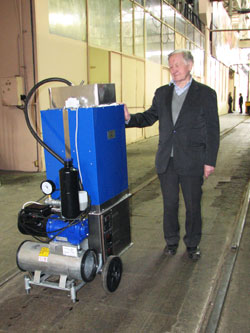 Alexander Belonosov and 30Sec Milk.
Source: Press photo
"There are short distances for transporting milk from the farm to the consumer, big profits and a major trend now for maximising the value of local products for consumers."
In Europe, Kuteinikov and Belonosov intend to sell their milk under one brand: 30Sec Milk.
Kuteinikov's partner is already in contact with more than 20 dairy farmers in the UK, Germany, Holland and France, 12 of which have expressed interest in buying a license for the technology and brand 30Sec Milk, he says.
This year alone Kuteinikov hopes to sell around 250 of the innovative new units in the EU at around £17,000 per unit.
The price includes a licence to use the patented technology. Every milk carton will earn its creators eight pence in royalties. Another source of income is expected to be the after-sales service (around £100 per unit a year) and carton sales.
Russian standards
Kuteinikov has no plans to sell 30Sec Milk units in Russia. But he will try to build a chain from the farm to the consumer by providing the set free to farmers and buying their finished product.
Yevgeny Kuznetsov, Deputy Director of Russia's Children's Nutrition Research Institute, says the technology deserves attention, but believes its does not yet entirely correspond to Russian state standards.
"According to the proposal, heat treatment of milk is carried out at temperatures above 75°C with a treatment period of about 10 seconds, which is not enough to guarantee the elimination of pathogenic microorganisms; pasteurization should last at least 20 seconds," he said.
"Taking the set from cow to cow may be unsanitary, while the removal of the finished product close to the surface of the earth raises questions about possible contamination by manure."
The abridged verstion of the article first published in Russian by RBC Daily
All rights reserved by Rossiyskaya Gazeta.