China to collaborate with Russia's Yandex to launch online trading platform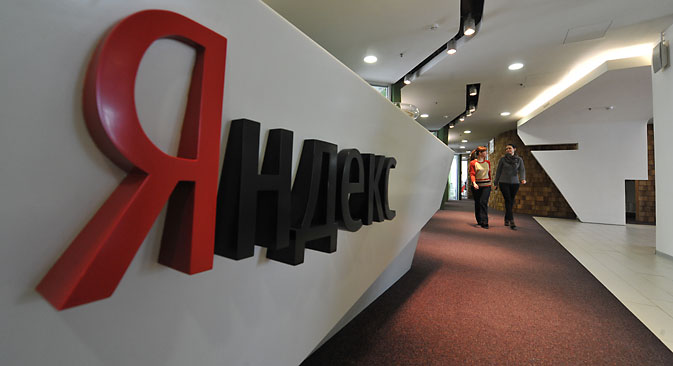 Yandex Moscow office interior. Sergey Kuznetsov/RIA Novosti
Turnover may reach $830,000 per month after first quarter
Russia's biggest search engine Yandex is to manage processing of payments for Chinese online platform TradeEase, which will be created for cross-border trade between China and Russia. The announcement was made in a joint report released by Yandex and TradeEase.
The platform is to be launched this summer by the Chinese payment processor PayEase e-Commerce Ltd, Bank of China, the Ministry of Finance of Heilongjiang Province and the Government of Suifenhe. TradeEase "will enable Chinese stores located on the Russian-Chinese border to sell their goods via the internet as well," reads the report. The partners will be engaged in processing of orders and deliveries.
Approximately 10 large vendors from the city of Suifenhe and other cities in the southern province of Heilongjiang will join TradeEase. According to Yandex's report, their number should grow to several hundred during the first month and exceed 1,000 by the end of the year.
Yandex deputy commercial director Anna Kuzmina anticipates that TradeEase's turnover will reach 50 million rubles ($830,000) per month for the first quarter. "Now the average sale on the Chinese internet stores that accept payments through Yandex is $60 (3,500 rubles). I think the average sale on TradeEase will be comparable," she said.
The volume of trade between Russia and the north-eastern Chinese province of Heilongjiang, which accounts for most of Russia's border with China, exceeded $23 billion in 2014. This figure is about a quarter of the total trade turnover between Russia and China, according to the People's Government of Heilongjiang Province.
But since the end of 2014, after the devaluation of the ruble, "the number of tourists from Russia to Suifenhe [one of the most popular border towns among Russian buyers in Heilongjiang Province] significantly decreased, partly because of the increase in ticket prices," the General manager of PayEase e-Commerce Ltd Kino Kwok told Russian business daily Vedomosti. According to Kwok, the launch of online trading may help Chinese businesses to keep Russian clients.
The article is abridged and first published in Russian on Vedomosti.ru.
All rights reserved by Rossiyskaya Gazeta.