Kuban agricultural holding seeks Asian investment to fund growth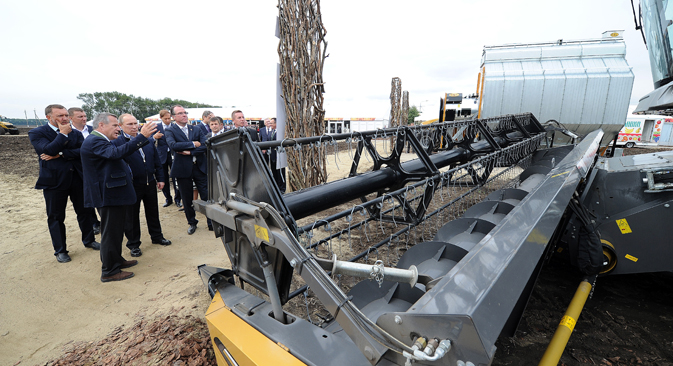 September 7, 2013. Russian President Vladimir Putin (fourth from left) during the inspection agricultural equipment of Kuban Agricultural Holding in Ust-Labinsk district, Krasnodar region. Mikhail Klimentyev / RIA Novosti
The sanctions war with the West is forcing Russian farmers seek investors in Asia. Kuban Agricultural Holding – part of Oleg Deripaska's business group Basic Element – is in talks to sell a stake with a number of Asian funds and investment companies, including Chinese firm CIC, which is interested in Basic Element's livestock division.
Kuban Agricultural Holding is in talks with Chinese and Arab strategic investors and funds, which may be offered a stake in the company, the managing director of Basic Element's agricultural division, Andrei Oleinik, told Russian business daily Kommersant.
The investors, with whom negotiations are ongoing, include the Chinese investment company CIC (China Investment Corporation), said Oleinik, who declined to specify the share that may be offered for sale, saying only that it will be "less than a controlling interest." It was not possible to get comment from CIC yesterday.
According to Oleinik, the investor is expected to invest more than $200 million; this amount will include the cost of the purchased package and additional funds for development.
The resulting investments will be aimed at increasing production volumes in every area, including a project for deep processing of soybeans, research and development in seed production, and a development project for the reproduction of breeding cattle by embryo transfer.
Kuban has no plans to expand the geography of its business, however, and will continue to operate solely within the Krasnodar Region.
Kuban combines the agricultural assets of Oleg Deripaska's Basic Element group. It consists of a meat processing complex, 11 dairy farms, two pig-breeding complexes, grain elevators, factories for the production and processing of seeds and the Svoboda sugar factory as well as the Voskhod stud farm.
In 2014, Kuban increased its net profit by 49 percent to 1.1 billion rubles ($18.3 million). The revenue of the agricultural holding company increased in 2014 by 9 percent to 7.3 billion rubles.
According to Oleinik, like the rest of the market, the company has intensified negotiations with Asian investors due to the closing of access to Western capital markets and the unavailability of borrowed money within the country.
This year, Kuban reduced the volume of investments from the earlier planned 3.2 billion to 1.7 billion rubles due to rising interest rates and the unavailability of financing.
As a result, a number of projects had to be abandoned in favor of the implementation of the most important projects for the company – the continuing modernization of the sugar factory and the increase in the production capacity of seeds.
Consequently, 925 million rubles will be invested in the sugar factory by 2018 (of which 563 million rubles will be invested by the end of this year), and 157 million rubles by 2017 (91 million this year) in increasing the capacity of the Ladoga seed plant.
Andrei Danilenko, head of Soyuzmoloko, said that investors from China, Japan and Singapore are interested in the Russian agricultural market, but specific arrangements are yet to be reached.
According to Danilenko, the interested parties include not only a Russian-Chinese investment fund, but also the Singapore sovereign fund. Such a partnership is profitable for Russian producers of milk, and most Russian producers will be interested in it, particularly those who have not been able to complete an IPO, said Danilenko.
Meanwhile, Arkady Ponomaryov, a State Duma deputy and the founder of the holding company Molvest, said that the CIC had also been in negotiations with his company, but no final agreement was reached.
"Their position is often to get assets for next to nothing, but not on some kind of equal footing," said Ponomaryov. "And in Voronezh they saw not a ruined production facility, but an operational one. As far as I know, there has been no serious contact with them since then."
The article originally appeared in Russian in Kommersant newspaper.
All rights reserved by Rossiyskaya Gazeta.