Sanctions boost Russian organic food production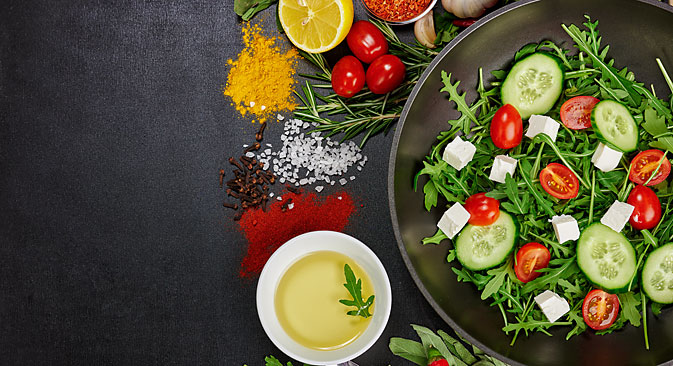 The food embargo can play into the hands of organic sellers, say experts. Source: Legion-Media
In Russia, demand for organic food is growing despite the country's financial and international political crisis. The embargo on importing European foodstuffs, imposed by Russia in 2014, is acting as an incentive for domestic production. Experts also see potential for foreign investment.
The embargo has deprived the Russian market of a significant portion of imported eco-products. "No less than 95 percent of organic foods was previously sourced from imports," says Denis Prasolov, CEO of Organic Corporation. Eco-fruits and vegetables, dairy products, nuts and dried goods were sourced in Germany, Italy, Switzerland, France, USA and Canada. The remaining five percent came from around 100 certified Russian producers. Russia produces milk and dairy products, meat, poultry and cereals.
Niche market
The Russian market is estimated to be worth £100 million (according to US government body FAS, the Foreign Agricultural Service); the global as much as £42 billion (according to IFOAM, the International Federation of Organic Agriculture Movements).
The organic food market started to develop actively in Russia three years ago. It has since grown 20 percent. But demand still exceeds supply. The main buyers of organic foods are parents who buy such products for their children and well-off consumers aged 22 to 45 who follow healthy lifestyles. Higher prices compared with conventional foods fail to put them off, even though vegetables may be 20 percent more expensive and fish and meat as much as three or five times the cost of conventional products. Increased prices attributed to sanctions, estimated at between 30-40 percent and the increased cost of foreign certification and ancillarymaterials (packaging, greenhouses and seeds) imported from Europe also seem to have little impact on demand, which experts say may even increase thanks to a new group of consumers – those who used to buy conventional foreign products.
"The food embargo can play into the hands of organic sellers," says Yelena Klyucharova, a research consultant with commercial real estate company CBRE. "In search of an alternative to familiar products from other countries, the buyer may well opt for eco-products," A recent survey by the Union of Organic Farming (UOF) found that around 58 percent of Russians are keen to buy eco-friendly products. Eco-market participants are expecting 10-15 percent growth in 2015, despite the crisis.
Investment opportunity
Russia has some 40 million hectares of untilled, vacant land untreated by chemical fertilizers for more than 20 years and therefore suitable for growing eco-friendly products. A tiny fraction, 0.06 percent – 126,800 ha – is used for eco farming. The availability of such land could attract foreign growers of organic food, says Tatyana Lebedeva, founder of web portal Look.Bio. "In Europe, the eco market is rapidly developing, but it lacks raw materials and suitable land," she says, adding there interest in developing the Russian organic foods market both from market participants and the public sector, for example, IFOAM.

Those who have already ventured into the Russian organic market include two farms with official certification that have foreign backers and produce organic food for export. Lebedeva identifies them as Tiyaki Russia (which has a Turkish parent company), which grows grains, vegetables and sunflowers in the Saratov Region and J&M Company, which produces cereals and oil-bearing crops in the Krasnodar Region. HIPP, one of the world's leading manufacturers of baby food, has a factory in the Kaliningrad Region, using raw materials both from the company's own certified farms and local producers, whose products meet eco-requirements.
Opaque market
But many potential foreign investors are put off by the opacity of the market – especially, the lack of formal legislation defining eco-standards in Russia.
The State Duma - Russia's lower house of parliament - has yet to rectify the situation, although a federal law on organic agriculture is due to be passed later this year and approval is also expect for technical regulations and national standards.
The impressive amount of acreage and clear legislation could not only attract foreign investors, but allow those operating without certification to be legitimised, opening up a market potentially worth over £200 million, the UOF believes.
All rights reserved by Rossiyskaya Gazeta.