Russia must profit from weak ruble by diversifying exports, say analysts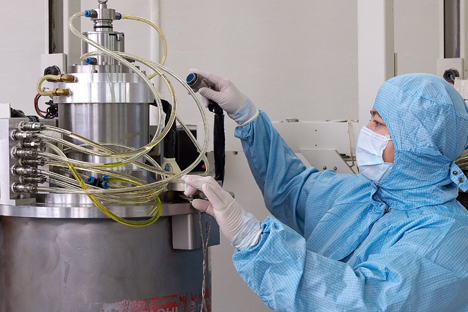 Skolkovo Foundation Vice President: It's necessary to increase the quality of research in scientific organizations. Source: Andrei Starostin / RIA Novosti
Economists participating in the Open Russia forum in Moscow have called upon the government to provide more support for small and medium-sized businesses and high-tech research, arguing that this will help Russian companies to increase exports in the non-primary sector. The analysts point out that with the ruble currently weak, Russia is in a position to significantly boost its export potential.
Government support will help Russian exporters and allow them to take advantage of the opportunities provided by the weak ruble, which will enable Russian companies to markedly increase exports of non-primary products, participants in the Open Russia forum in Moscow have concluded.
"The goals pursued by sanctions against Russia associated with the Ukrainian crisis have not been achieved – it is impossible to isolate the Russian economy," said Georgy Petrov, vice president of the Russian Chamber of Commerce and Industry as part of its discussion on Russia in New Economic Conditions at the forum.
According to Petrov, trade between Russia and several countries has led to a noticeable increase in GDP. In particular, he noted the case of Macedonia: "In 2014, Macedonia had a record 4 percent economic growth at the end of the year, and according to the Macedonian authorities, this is largely the result of Russia's contribution. In this situation the Russian government has decided to increase exports of non-primary products."
Main causes
"The Russian economy is heavily dependent on global events," said Oleg Grigorev, academic director of the Ekonomika scientific-research center. According to him, Russian companies must take advantage of the new opportunities are appearing on the international market and also attempt to enter external markets which were formerly closed to them.
As Roman Lyadov, director of the Analytical Center for Foreign Trade of the Russian Ministry of Industry and Trade announced, by the end of June 2015 the ministry will be developing plans for import substitution in 18 sectors, as the government plans to develop domestic production, including localizing foreign companies in Russia.
For this, Russia will introduce a "special investment contract," a form of agreement between the government and private company where the government will insist that the investor creates working places and production facilities for high technology products.
Another instrument will be the Industry Development Fund, which has already received 20 billion rubles ($347.8 million). The fund will provide loans to Russian companies with less than 5 percent interest per annum. For comparison, the key rate for Russia's Central Bank which is used by private banks throughout Russia is 14 percent.
Supporting exports and small business
Experts say that one indicator of whether Russian manufacturers can be considered successful is the export of advanced technology products. "Today, Russia imports 11 times more advanced technology products than it exports," said Skolkovo Foundation Vice President Vasily Belov. According to him, the weakened Russian ruble increases the competitiveness of Russian products, however, this in itself is insufficient.
According to Belov, it is necessary to increase the quality of research in scientific organizations. He said that from this point of view, there are good examples in Japan and the U.S. that are focused on exporting advanced technology products, and therefore are ahead of China. According to his information, 40 advanced technology companies from Russia opened representative offices overseas and entered international markets in 2014.
One of the conditions for economic growth, according to the experts, could be supporting small business. "We can take advantage of the business climate, if the government assists small and medium-sized businesses," said Viktor Yermakov, general director of the Agency for Small and Medium Business.
At present, according to him, the role of small business enterprises in the Russian export market comprises 0.2 percent, whereas in developed countries it is as high as 40 percent. In order to change situation, an online platform has been launched in Russia to support small businesses entering the Asia-Pacific Region. It will shortly be presented in China.
All rights reserved by Rossiyskaya Gazeta.