Japanese marbled beef to return to Russian market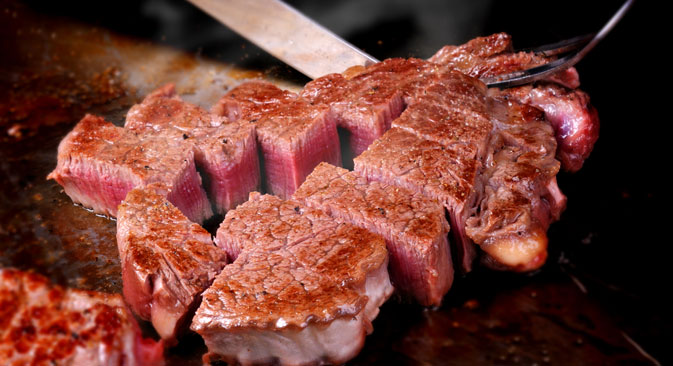 Source: Shutter/Legion Media
After a hiatus of almost 15 years, Japan has begun supplying elite Kobe beef to Russia again. The first buyers are likely to be expensive Japanese restaurants in large cities. However, Japanese beef could face competition from Russian marbled meat, which is developing an active position on the market.
Japan is to resume supplies of premium and marbled beef to Russia after being absent from the market for almost 15 years. The meat will be supplied via exclusive distributor S.Meat, a structural unit of the restaurant group SEIJI GROUP.
The products that will be supplied to Russia – premium Kobe beef and Japanese marbled beef – are in the high-price segment. S.Meat has received official permission from the Japanese authorities to export marbled meat, Wagyu and Kobe beef.
Import volumes are so far very modest. S.Meat's Project Manager Pavel Rogozhin told RBTH that the company plans to reach 10 tons by the end of this year. "There are restaurants in our group that are interested in purchasing marbled beef," said Rogozhin. "But there were no legal products of such a level in Russia. That's why we decided to import it ourselves, avoiding smuggled products."
No contraband
According to Rogozhin, marbled meat from Japan is planned to be delivered to restaurants in Moscow, St. Petersburg, Rostov and other cities. The Urals city of Yekaterinburg has also expressed an interest in it. "I think we'll see the million-plus cities taking a little of it. There is no meat of such quality in Russia," he said.
The company has managed to keep prices for the products down even despite the need to comply with all the necessary customs and transport formalities. According to Rogozhin, the beef will be priced at the level of similar products that come into Russia as contraband. But unlike illegal supplies, meat purchased by S.Meat has absolutely transparent origins.
It has taken more than 10 years to resume the supply of Japanese beef to Russia. Following the outbreak of BSE, or "mad cow disease" in Japan in 2001, imports to Russia had to be suspended. It was only relatively recently that the Russian agricultural watchdog, Rosselkhoznadzor, gave permission to resume supplies by removing the ban for two companies from Hyogo Prefecture on Japan's central island Honshu.
Competition from Russian producers
The question is – what does this mean for Russian producers? Managing partner and chef with the Torro Grill chain of meat restaurants, Kirill Martynenko, is confident that Japanese marbled beef in Russia will be able to occupy only a small portion of the market. First of all, due to the high price – the meat starts at $100 per kilogram – and also because of its small size, unusual for the Russians.
He believes that such meat is most likely to appear in high-end Japanese restaurants, and this is good news for them. But these are few and far between in Moscow. "It may have appeared in the mid-level restaurants. But certainly not in the steak houses," said Martynenko. In addition, Japanese marbled beef is very labor-intensive to cook, which also reduces its chances of appearing in a menu.
Japanese meat returns to Russia at an interesting point. Even before the ban on animal products from countries that supported the Western sanctions against Russia, the country had begun to actively develop its own production of beef cattle breeds and its own marbled meat.
It is still far inferior to Japanese beef, but is beginning to occupy vacant niches in the budget and medium segments. "Since December, our restaurants have completely switched to Russian beef. There is enough of it and there is no problem in terms of quality. There are some problems with the way the meat is processed, but these are temporary difficulties and they will disappear within six months," said Martynenko.
All rights reserved by Rossiyskaya Gazeta.