Russian automakers KamAZ and Sollers look to Asia-Pacific region for growth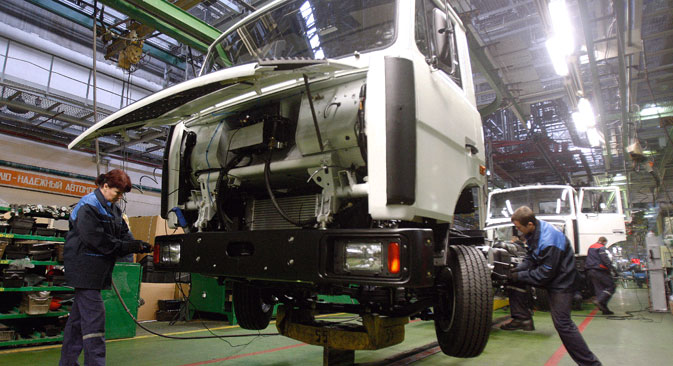 Source: Egor Eremov / RIA Novosti
Russian KamAZ and Sollers are ready to increase vehicle assembly production in Vietnam, but so far they are hindered by high duties on automobile parts and finished products, which reach 70 percent on certain vehicle categories. Despite this, Russian companies have recently developed an interest in auto production in Vietnam as a launch pad for export to other countries in the region.
Following talks with Vietnamese Prime Minister Nguyen Tan Dung, Prime Minister Dmitry Medvedev announced that the countries came to agreements on 17 investment projects, including the industrial assembly of Russian cars in Vietnam. As Kommersant learned, Russian companies Sollers and KamAZ are among the producers interested in this opportunity.
KamAZ has had a semi-knocked-down (SKD) assembly plant in Vietnam since 2006, where parts arrive for assembly. However, only 150 trucks were sold in the country in 2014 and most of them were imported as finished products. With such low volumes, it is unprofitable to assemble vehicles in Vietnam, the automaker notes, adding that duties on finished goods and on vehicle sets are about the same.
According to a source at KamAz, a necessary condition for increasing production is to reduce the duties on SKD kits. The GAZ Group noted that it is considering the possibility of setting up vehicle assembly production in Vietnam, and confirmed that the duties amount to 30-70 percent depending on the category of vehicles. This remains the main barrier for these types of exports to Vietnam.
Sollers does not have any production facilities abroad so far, but the company is currently interested in setting up an assembly line in Vietnam. According to Sollers, the company signed a memorandum of understanding in early April 2015 with a potential partner (the company name has not been disclosed), whose facilities could be used for assembly. However, Sollers believes that it is possible "only in the case of intergovernmental agreements concerning preferences given to assembly plants." It did not state which models Sollers could produce in Vietnam.
Russian market leader AvtoVAZ has not shown an interest in Vietnam. It has reported that it is focused on the Russian market, and also named Kazakhstan, Egypt, Azerbaijan, Ukraine and Germany as key export markets.
Kommersant's source that is familiar with the situation explained that it is unprofitable to assemble passenger cars in Vietnam due to high taxes, the narrowness of the market and strong competition. According to the Vietnam Automobile Manufacturers' Association (VAMA), a total of 157,800 cars were sold in the country in 2014, with the market leader being Toyota with a share of almost 26 percent (40,900 cars).
Demand for trucks is not so high and the main means of transportation for shipping between the north and the south of Vietnam is by sea. But, according to Sollers, automakers are counting on a free trade area between ASEAN (Association of Southeast Asian Nations) countries to export cars duty-free – for example, to Cambodia or Laos.
PricewaterhouseCooper's Sergey Litvinenko notes that automakers are actively looking for a platform for exports amid falling sales on the Russian domestic market. In February 2015, sales of passenger cars and light commercial vehicles (LCV) in Russia fell by 37.9 percent to 128,300 vehicles. According to agency Avtostat, LCV sales in February dropped by 43 percent, to 6,200 vehicles, while car and truck sales dropped by 42 percent to 4,500 vehicles.
Earlier in 2015, KamAZ announced plans to compensate for falling sales by increasing exports to 7,000 trucks annually (it was about 6,000 vehicles in 2014). But VTB Capital's Vladimir Bespalov does not expect a breakthrough into the Asian markets and believes that if assembly production in Vietnam is launched, the sales will be very limited. Bespalov suggests that companies and investors not forget about the presence of Chinese automakers, which offer strong competition.
First published in Russian in Kommersant.
All rights reserved by Rossiyskaya Gazeta.