Russia to compete with China and South Korea for Indonesian market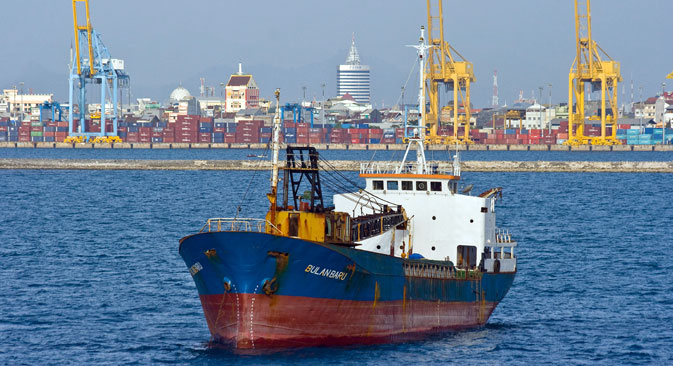 Source: Lori/Legion Media
Russia is set to increase its commodity turnover with Indonesia by 100 percent to $5 billion a year in 2016. In order to reach this target, Russian companies are planning to supply Indonesia with new vessels and redevelop its seaports. However, they will be competing with players from China and South Korea.
The Russian government plans to increase its commodity turnover with Indonesia in 2016 by 100 percent to $5 billion, according to an announcement made by Russian Minister of Industry Denis Manturov during a session of the Intergovernmental Committee of Russia and Indonesia in Kazan (800 km east of Moscow).
According to Manturov, the commodity turnover between the two countries is currently worth $2.5 billion (Indonesia's entire commodity turnover is $200 billion).
Russian companies are also planning to participate in the redevelopment of new seaports in Indonesia, with a visit to the Asian state by President of the United Shipbuilding Corporation (Russia's largest state holding company) Alexei Rakhmanov scheduled to take place in the near future. Rakhmanov was previously responsible for the localization of Russia's car production.
According to the head of Indonesian delegation, Coordinating Minister of Economy Sofyan Djalil, although Russia will face competition with Chinese and South Korean enterprises in shipbuilding in the Pacific Rim region, USC will be able to find its niche. Moreover, in order to develop joint investments, Indonesia and Russia will create a joint commission.
Combined work
Manturov said that among the projects that will help the growth of bilateral commodity turnover are the construction of the Rusal bauxite and alumina plant in West Kalimantan Province, the construction of a railroad in East Kalimantan Province by Russian Railways and the creation of the Vi Holding company for processing nickel ore on the island of Sulawesi.
"We are also willing to help localize our production, including chemical companies making mineral fertilizers," said Manturov. "[Russian potash fertilizer producer] Uralkali has already made an agreement with a local Indonesian company."
"Indonesia is the largest archipelago nation in the world, which provides an opportunity for Russia's Glonass global positioning system," explained Mikhail Kuritsyn, director of the Business Council on Cooperation with Indonesia, during the intergovernmental session.
"Also, Indonesia, like no one else in the world, offers possibilities for the development of aviation and shipbuilding." According to Kuritsyn, this creates additional opportunities for the Russian shipbuilding and aircraft construction industry.
The battle with the dollar
Besides the localization of production, the Russian government also hopes to establish supplies of liquefied natural gas to Indonesia and start making payments in national currencies.
"We have experience in switching to contract payments in national currencies with India, China, and we've talked about it with Thailand and Vietnam. It will strengthen our local currencies," said Manturov.
According to the head of the Indonesian delegation, Coordinating Minister of Economy Sofyan Djalil, Indonesia is interested in localizing the production of Russian companies on its territory, as well as in Russian oil supplies. Indonesia consumes 1.6 million barrels of oil daily, 1 million of which are imported, so it has a natural interest in attracting Russian companies.
Djalil also agreed to increase the share of payments in national currencies. "Dependence on the American dollar is our mutual headache," said the minister. "When the dollar began to strengthen in March 2015, levels of depression in Indonesia increased by 15 percent."
Consequently, according to the Indonesian minister, the country is ready to remove all unnecessary restrictions on making payments in national currencies, despite the fact that doing so will result in an increase in transaction costs.
All rights reserved by Rossiyskaya Gazeta.