Good news for last-minute bookers as HotelTonight comes to Russia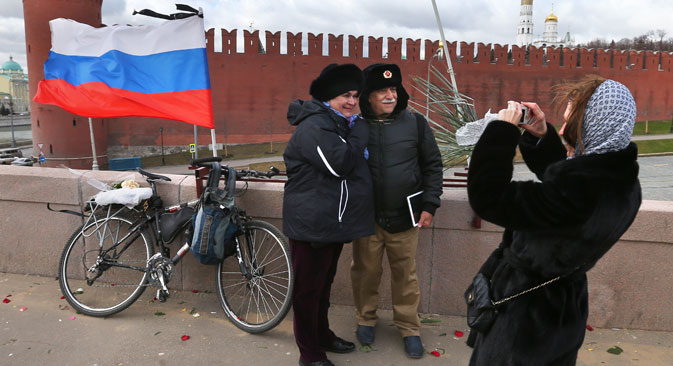 Tourists in Moscow. Source: Valery Sharifulin / TASS
The American company, which specializes in arranging hotel bookings for the spontaneous traveller, is expanding into the Russian market. HotelTonight has already concluded contracts with hotels in Moscow and St. Petersburg, and plans to involve others for the May holidays and the summer vacation. The company's CEO says Russians are ideal customers because of their tendency to make last-minute plans.
The market for last-minute hotel bookings has gained an important boost in Russia following the launch of operations by American online hotel booking service HotelTonight.
The company, which caters to spontaneous travelers and specializes in last-minute bookings, has already signed contracts with 40 hotels in Moscow and St. Petersburg, including Lotte Hotel, Ararat Park Hyatt, Intercontinental Tverskaya, St. Regis Nikolskaya, Indigo St. Petersburg, W St. Petersburg, Helvetia and others.
For the May holidays and the summer vacation period the company intends to include hotels from classic Russian destinations such as Sochi, Kazan, and the medieval Golden Ring towns northeast of Moscow, as well as Kaliningrad. "We are counting on domestic tourism, which is now experiencing a boom," said Alexei Lankin, regional director for HotelTonight in Russia.
Counting on Russian spontaneity
According to Rostourism, the results of 2014 show that there was a 40-percent increase in domestic tourism, and in 2015 growth could rise by 30 to 50 percent. Data from Businesstat shows that the volume of the Russian hotel services market grew by 7.6 percent in 2014 to 174.7 billion rubles ($3.3 billion), with average hotel occupancy at 50-60 percent in the regions and 70 percent in Moscow.
The HotelTonight application. Source: Press Photo
HotelTonight is a mobile booking application that helps travelers reserve hotel rooms at the last moment. According to Jared Simon, the company's CEO, the decision to invest in Russia was made mainly because Russians are characterized by their spontaneity. "We invest in markets where people are ready for spontaneous travel and adapt well to new technologies," said Simon. "Russia was ideal. Russians don't plan one year ahead like in many other countries."
The service earns money from the fixed 15-percent commission made on each booking. Alexei Lankin says that the investments in the localization of the application, including hotel descriptions, photographs, advertising, PR, etc. amount to roughly $1 million.
Who are the competitors?
One of HotelTonight's main competitors will be the Booking Now mobile application, which was launched in the beginning of 2015 by the site Booking.com. The services of booking "day by day" are offered by other companies, such OneTwoTrip, Anywayanyday and Ostrovok. The Russian company OneTwoTrip's share of online bookings in April 2015 was 10 percent. Anywayanyday's share was almost 16.5 percent.
The HotelTonight application was created in 2010 in San Francisco. Currently, the service operates in 500 cities in 28 countries around the world. Its database contains 15,000 hotels, while the number of user downloads throughout the world is over 12 million. In Russia, the application had been downloaded almost 70,000 times before the launch of the Russian version, according to the company's head Jared Simon.
"If HotelTonight makes advantageous deals with hotels and offers users low prices, then they'll have a chance," said Anywayanyday's general director Yevgeny Shukhlin.
"Usually things like booking on the last day work when you have high mobile activity from the population, as well as a high demand for hotels," explained Marina Smirnova, director of the Department of Hotel Business and Tourism at real estate services firm Cushman & Wakefield.
"If you have occupancy of about 60 percent, then such services will not be in great demand," said Smirnova. "It is also very difficult to guess a time because hotels usually begin "throwing out" rooms close to evening, after 4 p.m. The Russian reality is such that the rooms are usually booked in advance."
Based on material published by the Kommersant and RBC Daily.
All rights reserved by Rossiyskaya Gazeta.