Russia, Indonesia eye trade in national currencies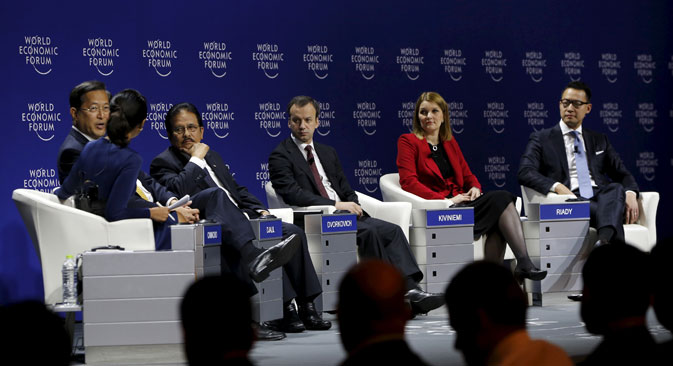 Within the next five months, Moscow and Jakarta look to trade in the rouble and rupiah. Analysts see the measure as a way of reducing the cost of trade.
Taking a lead from Sino-Russian trade initiative, Moscow and Jakarta are actively exploring the idea of trading in national currencies.
During Russian Deputy Prime Minister Arkady Dvorkovich's visit to the World Economic Forum on East Asia 2015, which was held on April 19-21 in the Indonesian capital of Jakarta, officials from both countries discussed making trade payments in rupiah and roubles.
According to Russian Minister of Industry Denis Manturov, it would take about five months to implement the change to the national currencies.
"Payments in national currencies help use the advantages of the producing countries and give additional opportunities for international supplies of goods," said Mikhail Kuritsyn, Executive Director of the Business Council on Cooperation with Indonesia. Kuritsyn, who was part of the Russian delegation in Jakarta, added, "For us it is easier to give our exporters credit in roubles, just as it is easier for Indonesia to give credit to its exporters in rupiah."
In the course of the next twelve months, the volume of payments in roubles and rupiah can be 5 to 10 percent of the commodity turnover, according to Kuritsyn. "Larger volumes are also possible if a clear transaction system is worked out. For now we are waiting for a reply on this issue from Vnesheconombank."
Kuritsyn added that the Russian government believes the model of payments in national currencies is financially justifiable and hopes that in the future it will make trade less expensive. "There shouldn't be any additional expenses. Such expenses arise when the transactions include a third currency and there is the necessity for additional conversion."
Trade exchange
During his visit to Jakarta Arkady Dvorkovich said Russian investors are ready to invest hundreds of millions of dollars in Indonesia within the next three years. The Jakarta Globe reported that cooperation between the two countries is being planned in the fields of energy, transportation, agriculture and others.
"Our prices are very competitive, especially now, after the devaluation of the rouble," said Dvorkovich. "We can offer lower prices than others. This is very important."
The Deputy Prime Minister also said that Russia is ready to supply Indonesia with liquefied natural gas, helicopters, civilian airplanes, satellite aerial devices and organize the production of cars, as well as create joint enterprises for assembling and servicing railroad technology.
Russia was able to agree on similar trade cooperation programs with Vietnam and Thailand during Prime Minister Dmitri Medvedev's visit to the countries this month.
When it comes to trade in national currencies, until recently Russia had been heading in this direction only with China. Dvorkovich said that currently "(Russian and Chinese) banks are developing the details of the system."
Russia and India are also exploring the idea of rupee-rouble trade and talks were held on the creation of such a system during Vladimir Putin's visit to New Delhi in December 2014.
All rights reserved by Rossiyskaya Gazeta.