'Good time to set up joint Russian-Chinese production projects' - Chinese official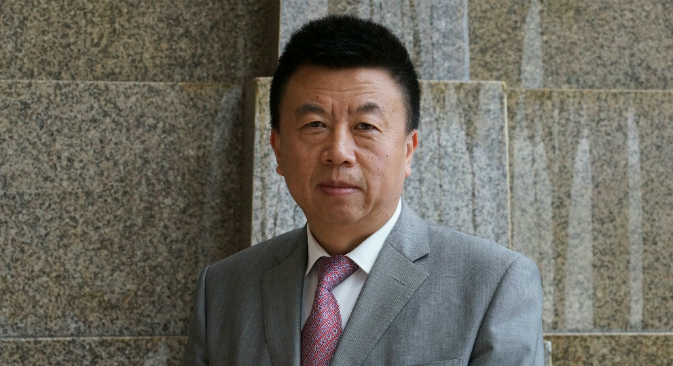 He Zhenwei. Source: Olga Sokolova
A senior Chinese official believes that there are strong prospects for cooperation between Chinese and Russian small and medium-sized enterprises
On the sidelines of a Russian-Chinese forum titled "Big Opportunities for Small and Medium Business" that was held in Beijing, an RBTH correspondent interviewed Deputy Secretary-General of the China Overseas Development Association He Zhenwei about prospects for developing Russian-Chinese cooperation in this sector and obstacles that may hinder it.
RBTH: How do you think economic relations between China and Russia are developing?
He Zhenwei: As far as Russian-Chinese business and investment relations are concerned, I see no obstacles whatsoever. In the foreseeable future, trade between Russia and China will reach $100 billion. Now is the best time to set up joint Russian-Chinese production projects on Russian territory and to sell their output there.
RBTH: Over the past 20-30 years, how come China has managed to achieve a breakthrough in the development of small and medium-size business, while Russia has so far failed?
He Zhenwei: That's a good question. Yesterday, we all heard the speech by our First Vice Premier Zhang Gaoli, who said that SME (small and medium enterprises) in China account for 60 percent of the country's GDP. What is the reason behind such a big share? The reason is that our state consistently and deliberately renders significant support to these businesses. There are special loan programs for SMEs in China, whose terms are similar to those offered in the Netherlands, which is famous for its preferential treatment of small businesses.
As for Russia, your small and medium-size businesses are not as well developed as in China. However, I would not overdramatize it. The market capacity for the SME sector in Russia is still very large, which means that there are clear prospects for its development. The main condition for it, same as in China, is aid and support from the government.
RBTH: Traditionally, both China and Russia have high levels of corruption. However, it has not prevented China from generating 60 percent of its GDP from small and medium-size businesses, whereas in Russia corruption is considered to be one of the main causes of low business activity. What do you believe are the reasons?
He Zhenwei: I would not say that in China corruption is not a problem for small and medium-size businesses. Unfortunately, this problem does exist. However, Chairman Xi Jinping and the government continue to propose new ways of tackling it. The fight against corruption is the country's state policy. It is particularly important to wage it all levels, including in remote regions, small towns and villages. What is needed here are some harsh measures and tough policy.
The same needs to be done in Russia. It is necessary not just to speak of the fight against corruption but also to take specific steps in that direction.
RBTH: How promising is cross-border cooperation in developing Russian-Chinese business ties?
He Zhenwei: You saw for yourself the number of participants in this forum who arrived from the province of Heilongjiang. This is a province on the border with Russia and these are the optimum conditions for economic relations: there is no need to use either railroad or sea transport. That is why cross-border cooperation there has a huge potential. There is only one problem at the moment: there are not enough bridges across the Amur. We for our part are ready to invest in their construction, but there is no readiness from the Russian side yet.
RBTH: What, do you think, are the main obstacles to developing Russian-Chinese cooperation in the SME sector?
He Zhenwei: To begin with, there should be more trust. To that end, I believe, it is necessary to have more frequent meetings and forums for representatives of the two countries' small and medium-size businesses. There should be more platforms like the forum we are attending now. There should be more communication, more exchanges.
RBTH: Many of the speakers here also mentioned the problem of the language…
He Zhenwei: Indeed, it exists, although I don't think that in this case linguistic difficulties are the main problem. There are currently many opportunities in China to learn Russian and in Russia, to learn Chinese. If there is a desire to cooperate, finding an interpreter should not be a problem.
All rights reserved by Rossiyskaya Gazeta.