Russia and China sign record-breaking economic contracts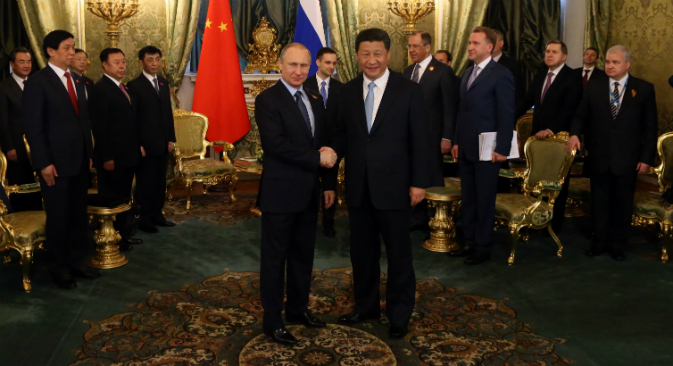 Chinese leader Xi Jinping during his official visit to Moscow on May 8-9, 2015. Source: Konstantin Zavrazhin / RG
During Chinese leader Xi Jinping's official visit to Moscow, Chinese banks signed agreements on financing Russian projects. For their part, Russian companies are ready to increase gas supplies and deliver civilian Sukhoi SuperJet 100 aircraft to China.
During Xi Jinping's recent official visit to Moscow, Russian companies signed several major deals with their Chinese partners. Most of the agreements are designated in Russian rubles or Chinese yuan, according to RIA Novosti. "[Russia and China] intend to strengthen cooperation in the financial sphere, including through a wider use of the ruble and the yuan in mutual settlements," Russian President Vladimir Putin said after the official meeting with his Chinese counterpart. He went on to add, "In the first two months of this year alone, the share of the national currencies in bilateral contracts exceeded 7 percent." The signed agreements primarily concern Chinese banks' funding for Russian projects. Analysts say this is particularly important given that Russian companies are denied access to Western capital markets because of the sanctions.
Important projects
Russian banks mainly received yuan loans from Chinese partners. The country's largest bank, the state-owned Sberbank, opened a 6-billion-yuan ($966-million) credit line with the China Development Bank. The money will be spent on modernizing Russia's biggest cement manufacturer, the Eurocement company.
Russia's second biggest state-owned bank, VTB, signed an agreement with the Export-Import Bank of China on a 3-billion-yuan ($483-million) credit line, whereas Russia's main development institution, Vnesheconombank, received a 15-year loan from the same bank to the amount of 3.9 billion yuan ($628 million) for manufacturing special steel in Russia.
Summing up the agreed Russian-Chinese projects, UFS IC chief analyst Ilya Balakirev highlighted the cooperation in energy, railways and aircraft manufacturing sectors.
Gazprom Chief Executive Alexey Miller and Vice-President of China National Petroleum Corporation (CNPC) Wang Dongjin signed an agreement on the main terms for Russian gas supplies to China along "the western route", the 2,700-km-long Altai gas pipeline. The contract envisages the supply of 30 billion cubic meters of gas over a period of 30 years. The cost of the project has not yet been finalized, however, in 2006 it was estimated at 363 billion rubles ($7.1 billion).
The United Aircraft Corporation (UAC) plans to supply 100 Sukhoi SuperJet-100 aircraft to China over a period of three years. Given that each aircraft costs $36 million, the overall amount of the contract is estimated at $3.6 billion.
The Chinese authorities have promised to invest 300 billion rubles ($5.9 billion) in the construction of the high-speed railroad line linking Moscow and Kazan. The 770-km-long line will reduce the travel time between the two cities from the current 11.5 down to 3.5 hours. The railway line will be built by Chinese companies.
Unequal relationship
According to experts, the new contracts increase Russian companies' dependence on Chinese capital. "China is already the world's biggest economy in terms of GDP (purchasing power parity) and is our immediate neighbor. Given the difference in the scale of our economies, the differences in requirements and in financial resources, China's 'more senior' position looks quite logical," says Ilya Balakirev. He adds, Russia, where possible, will seek to develop relations on parity conditions.
"To a certain extent, the expansion of cooperation between Russia and China was a forced step, although overall it is also a logical and mutually beneficial step," says Anton Soroko, an analyst with the Finam investment holding company. According to him, this growing closeness is partly driven by changes on the world political arena and partly by developing countries' desire to have a bigger influence on global processes. Soroko points out that integration within the informal institution of BRICS has sped up. In 2015, the organization's summit will be held in the Russian city of Ufa (1,330 km to the east of Moscow).
All rights reserved by Rossiyskaya Gazeta.