Chinese companies face challenging business environment in Russia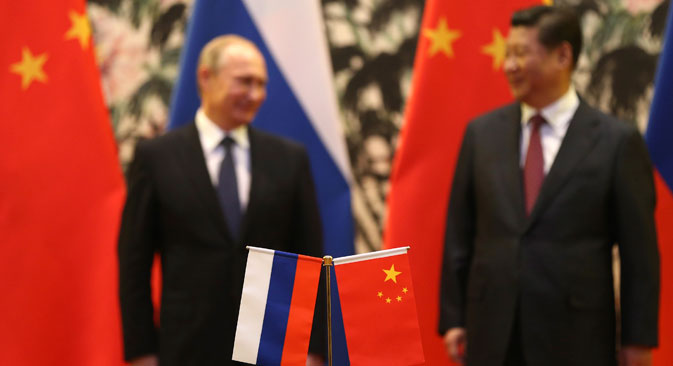 Russian and Chinese national flags are seen on the table with Russian President Vladimir Putin (L) and his Chinese counterpart Xi Jinping stand in the background during a signing ceremony at the Diaoyutai State Guesthouse in Beijing, November 9, 2014. Source: Reuters
The results of a survey conducted by the professional services firm revealed that Chinese entrepreneurs are concerned about economic instability and a lack of guarantees for investors. Russian experts say the problems are systemic in nature.
Chinese companies operating in Russia face the same kind of problems that their counterparts from Europe and the United States experience, a survey conducted by Ernst & Young revealed.
About two-thirds of the representatives of Chinese companies surveyed said they were concerned about law enforcement, while 58 percent said they were worried about economic instability. 52 percent of the respondents said they were concerned about geopolitical tensions. Despite these problems, 91 percent of Chinese entrepreneurs believe the Russian market is an attractive place to do business.
The main problems
"Systemic issues largely prevent the development of Russian-Chinese economic relations," says Alexei Kozlov, chief analyst at UFS IC. According to him, while the relationship between China and Russia is clearly improving at the state level, economic cooperation remains very low at the level of the private sector. "One can agree with the results of the survey, which indicates that economic instability, high risks, sanctions pressure, problems of law enforcement and lack of guarantees tend to be significant obstacles to the development of relations between the two countries," he said.
At the same time, the vast majority of Chinese players have indicated the presence of natural resources and a large internal market as the main factors that make Russia attractive.
Almost 50 percent of Chinese companies already operating in Russia have entered the market by entering into a partnership with a Russian company, or by purchasing a stake in a local company.
Role of the government
According to Alexey Repik, President of the Business Russia Association, political decisions affect business. "Often, the inability to find a mutual understanding with representatives of the government has a negative impact on us, the entrepreneurs," he says, adding that businesses face additional bureaucratic obstacles. "Businessmen themselves need to take the initiative and push the authorities for a more active dialogue," Repik says.
According to the survey, 21 percent of Chinese companies are ready to invest in Russia over the next year, and 40 percent are ready over the next five years. However, the companies on average are not willing to invest more than $50 million, and only 10 percent of them are willing to invest more than $500 million in the Russian market. Ernst & Young surveyed 31 companies with a turnover of more than $1 billion.
According to the Russian Central Bank, the volume of investments from China to Russia amounted to $1.28 billion in 2014, compared to $600 million in 2013.
The Hermitage Foundation estimates that Chinese investments in Russia touched $3.5 billion in 2014 with about $1 billion going to construction projects, and $2 billion for transportation.
All rights reserved by Rossiyskaya Gazeta.