Tatarstan's president seeks to strengthen regional investment profile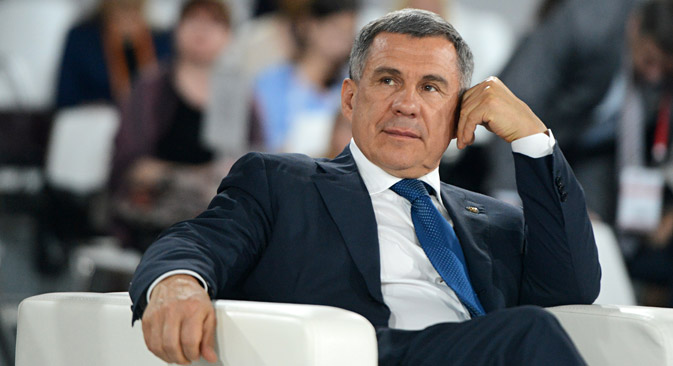 Rustam Minnikhanov: 'We are working with investors from around the world.' Source: Evgeny Biyatov / RIA Novosti
The Republic of Tatarstan – a predominantly Muslim region of Russia located 1,300 kilometers from Moscow – boasts companies from Turkey, the U.S., China and the UK operating in the region. Many of its officials were trained abroad. In 2015, the region ranked first in the national rankings for the investment climate. In an interview with RBTH, the President of the Republic, Rustam Minnikhanov, spoke about how the development of education attracts foreign investors.
RBTH: What are the most large-scale projects with the participation of foreign investors now being implemented in Tatarstan?
Rustam Minnikhanov: We are working with investors from around the world. Now we are carrying out several major projects with Turkish investors with an investment of $1.5 billion. The Danish company Rockwool opened its biggest factory for insulating materials [in Tatarstan]. Recently, we have attracted the U.S. company Armstrong, which makes ceilings. Another American company, 3M, is now completing the construction of a plant. Chinese companies are building a mineral fertilizer plant [in the region].
RBTH: What conditions do you offer to foreign companies that convince them to invest in your region, rather than Moscow?
R.M.: We have two special economic zones – Alabuga and Innopolis. The Innopolis project is IT-oriented, while Alabuga is an industrial zone, where 19 production facilities are already operating. Among them is Ford Motor Company, which by the end of the year [2015] is expected to complete the construction of a diesel engine plant.
The volume of gross regional product amounted in 2014 to 1.6 trillion rubles ($28.8 billion), while the investment in fixed assets totaled 542 billion rubles ($9.7 billion).
There are also many industrial sites in the Republic. For instance, the industrial park Master with an area of 640 thousand square meters is located on the site of the former Kamaz factory. It is the largest industrial park in Europe. For such organized sites, we can monitor the implementation of projects so that they do not face bureaucratic difficulties.
In addition, these parks have all the necessary infrastructure for investors including the engineering [capabilities], transport and qualified staff, as well as tax benefits and preferential access to energy resources and infrastructure.
RBTH: Tatarstan is often called the Russian Singapore. As far as we know, this is where you are sending your employees to study. Why are you interested in this particular country?
R.M.: Singapore offers a unique experience. This country has managed to become a world leader in many sectors in a short period since the 1960s. They have a very strong system of management training.
We have created a joint company, which focuses on the training of specialists for education. In addition, we have entered into agreements with two educational centers in Singapore for the training of municipal civil servants.
It is important that people see how other countries are transformed into global leaders not only in words but also in deeds. This has a positive influence on the formation of our future leaders.
RBTH: Does education based on international experience then help to attract foreign investors to the region?
R.M.: Some companies when opening a plant take their entire staff and management along with them, but you do not have to take anyone to Tatarstan. The presence of highly educated personnel is the most important competitive advantage. You can buy everything, but you cannot buy people.
RBTH: You stand for active cooperation with Islamic banks. Do you think Islamic capital can replace Western funding?
R.M.: We have always said that Russia works poorly with the Islamic world. But the Islamic world today is two billion people, of whom 20 million live in Russia. The Islamic world has great opportunities. This was confirmed by the Kazan Summit, which was recently held in Tatarstan and attended by representatives from 46 countries.
Even the President of the Islamic Development Bank, Dr. Ali (full name Dr. Ahmed Mohammed Ali Al-Madani – Ed.), came to this summit. The Islamic Development Bank is a very serious financial structure and we are looking for ways to find access to Islamic finance. As funding for Russia was restricted in the West, we will find other sources.
Yes, Islamic banks are not yet clear to Russia, but today these financial instruments are used not only by Islamic countries, but the United Kingdom and other European countries. Since English law allows you to work with the principles of Islamic banking, then Russia will be able to. [We have] agreed with the head of the Islamic Development Bank to establish a special working group.
On June 23-24, U.S. Ambassador to Russia John Tefft made a working visit to Tatarstan. He visited the special economic zone Alabuga and met with representatives of American companies operating in the region.
Official results of the visit have been published on the Embassy's website (reproduced here in abbreviated form – Ed.):
"With great interest I visited the Kazan State Research Technological University, talked with students and young scientists – participants of the All-Russian Summer School in the Sciences and Technologies 'Nanomaterials and Nanotechnologies,' which was held as part of the Fulbright Program. We believe that such programs can serve as the foundation for the development of relations between our countries in the future."
At a meeting with students, Ambassador Tefft also pointed out that the American business community maintains its interest in the development of investment cooperation. "Currently, interstate relations between Russia and the United States are faced with difficulties in connection with Ukraine," Ambassador Tefft said. "But we have preserved the interaction. The main problem for American business is not sanctions, but the decline of the Russian economy. Investors rely on future profitability and invest where they will quickly get an income. It is also a question of risk. Business does not like uncertainty in the market. At the same time, Russia has a great potential."
All rights reserved by Rossiyskaya Gazeta.