Continent of opportunity: Can Russia compete with China in Africa?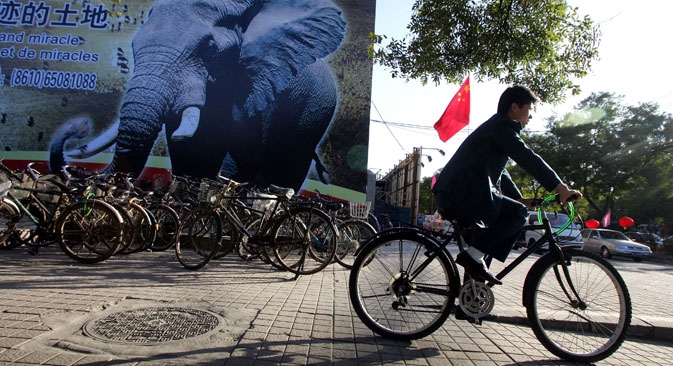 A man cycles past a billboard which promotes the China-Africa summit meeting on a street in Beijing. Source: AP/ Greg Baker
Russia is stepping up cooperation with African countries, although Chinese companies are already actively operating on the continent. Russian and Chinese players will have to compete in all the key industries: mining, power generation, and oil and gas.
Russia will be increasing its cooperation with African countries, Deputy Industry and Trade Minister Georgy Kalamanov has said at the Russian-African business forum held on the sidelines of the Innoprom-2015 international industrial exhibition in Yekaterinburg.
"Trade with African countries is steadily on the rise. In 2014, it grew by 17 percent, to reach $12.5 billion," said Kalamanov. Yet, he continued, "there is still a huge potential for increasing cooperation."
For their part, delegates from Africa said that so far cooperation with Russia was local in nature, while the main interest in the continent came from China.
Rivalry with China?
The Angolan ambassador to Moscow, Joaquim Augusto de Lemos, said that his country's major partners were Portugal, China, the U.S., Brazil and South Africa, while with Russia "trade links were not so extensive." He went on to add that Angola had vast diamond and oil reserves.
According to Namibian ambassador to Russia Ndali-Che Kamati, however, Russian investors needed to take a longer-term approach to Africa, and it is naïve to expect instant returns. "Russian business should change its mindset. Some Russian businessmen want to make billions straight away, not millions," he said.
Furthermore, there are Chinese companies already actively working on the African continent – though according to Yekaterina Dyachenko, managing director of the B2B-Export company, which among other things is engaged in promoting Russian exports to African countries, this is not a problem.
"Entering markets and continents where China is already present is not an issue in our relations with the People's Republic," said Dyachenko. The arrival of Russian companies, she added, will increase competition on the local market and, as a result, will bring prices down.
Chances for Russia
One of the main problem industries in Africa, one which opens enormous opportunities for Russian companies, is power generation and distribution.
"In Kenya, only 25 percent of the population have access to electricity. A mere 10 years ago, the figure was just half of that," said Gachao Kyuna, a member of the board of the Kenya Investment Authority. He went on to add that Kenya was planning to double its electricity production over the next five years.
Namibian ambassador to Russia Ndali-Che Kamati also underlined that his country was in need of investment in order to develop its energy infrastructure. "We need Russian companies that would participate, either through joint ventures or direct foreign investment, in the construction of power plants in our region, be it thermal power plants, or gas or even nuclear," he said. In addition, he continued, Namibia needs investors in the oil and gas sector as it has offshore gas reserves waiting to be developed.
African delegates also spoke of the need to set up new enterprises in mining, agriculture and industry in general. "Angola wants to build an extensive infrastructure: roads, hydropower plants, buildings, airports," Ambassador de Lemos said. He went on to add that Angola was importing a lot of consumer goods, so it was necessary to set up similar domestic production and this is where Russian companies could show initiative.
All rights reserved by Rossiyskaya Gazeta.