The road ahead for Thai-Russian trade relations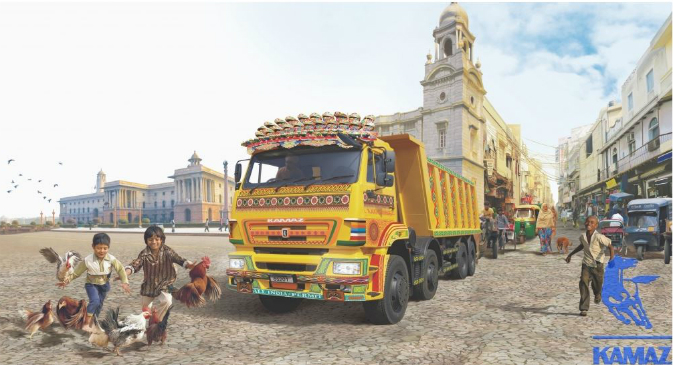 Russian truck manufacturer KamAZ has successfully entered the Southeast Asian market Source: Press photo
Economic ties between the countries have been on the upswing for a while. There is already an agreement for Russia to supply Sukhoi Superjet-100 (SSJ-100) civil aircraft, while KamAZ has successfully entered the Southeast Asian market. Thai businesses are involved in major agricultural projects in Russia. However, bilateral trade still lags behind potential.
The 6th Russia-Thailand Intergovernmental Commission on Bilateral Cooperation met in Moscow this month. The meeting was co-chaired by Denis Manturov, Russia's Minister of Industry and Trade of Russia and Tanasak Patimapragorn, Thailand's Deputy Prime Minister and Minister of Foreign Affairs. A large delegation, comprising of representatives of major Thai ministries, accompanied Patimapragorn.
The sides discussed the progress in the implementation of agreements signed between the countries when Russian Prime Minister Dmitry Medvedev visited Thailand in April. There were the usual expressions of desire to increase cooperation in manufacturing, agriculture and investment.
Do such meetings and subsequent agreements bring any tangible benefits for businesses and ordinary citizens? Ten agreements were signed as a result Medvedev's April visit to Thailand. We, the members if the business community, truly hope that all of them will be implemented. The Russian Prime Minister noted that last year our trade turnover grew by almost 20 percent to around $5 billion, according to Thai estimates. The positive trend continues this year as well, despite economic difficulties.
Trade ties have been on the upswing for a while. There is already an agreement for Russia to supply Sukhoi Superjet-100 (SSJ-100) civil aircraft. Russian truck manufacturer KamAZ has successfully entered the Southeast Asian market.
We will celebrate when passengers in Thailand fly on SSJ-100s. KamAZ is eyeing big orders in the kingdom and offers quality trucks that are more competitively priced than its Japanese or European counterparts.
Russia and Thailand have set a bilateral trade target of $10 billion in the next five years. For this, we also need to remove trade barriers.
Areas of mutual interest include energy, food supplies, Thai participation in the Russian agricultural sector, as well as global navigation systems and space exploration.
Boosting trade and investment
While cultural and educational ties are important, Russia's primary goal is to attract investments. What Russia can offer in the present situation? What can Thailand expect to get in return?
Moscow and Bangkok recognize the benefits of further investment cooperation, especially in sectors such as food processing and automotive parts. Thailand is also keen to invest in Russia's upcoming special economic zones.
The countries also decided to establish five pairs of so-called cluster cities: Bangkok – Moscow, Rayong – Vladivostok, Samut Prakan – Yekaterinburg, Songkhla – Kazan, and Chiang Mai – Sochi. Frankly speaking, the business community does not understand how this cluster cities initiative can assist in promoting private sector cooperation. The business community always prefers to see practical steps and agreements. For the benefit of trade facilitation, the joint Russian-Thai commission suggested that the central banks of Russia and Thailand consider establishing a special working group on banking and financial cooperation. Such a working group could explore ways to help strengthening interaction of banking institutions and smoothening trade settlements, including the possibility of using national currencies.
The idea of using the Russian Ruble and Thai Baht in mutual trade has been discussed for a long time. Earlier this year in Bangkok, Manturov discussed this matter during his meeting with Patimapragorn. A transition to settlements in Ruble and Baht, instead of hard currencies, provides additional benefits to private companies, but we need to establish interbank correspondent relations between the two countries.
Thai banks support this idea of settlements in national currencies. I know that Kasikorn Bank is exploring ways to make this possible. Imagine, how much trade partners can save on direct money transactions!
There are some positive steps in agricultural relations too. Thailand expressed interest in increasing the supply of rice, poultry meat products, fish and seafood products, and fruits to Russia. At the Moscow meetings this month, the countries decided to assist relevant agencies of Russia and Thailand in establishing direct contact to discuss this matter.
Russia also promised to consider Thailand's request of updating the list of Thai fish processing establishments approved as suppliers by the Russian government's food products watchdog. In order to expedite the concrete implementation of the memorandum of understanding in agriculture, corresponding documents will be signed soon.
Russia and Thailand certainly have ambitious trade plans, but the key to greater economic ties lies in the implementation of agreements.
The writer is the Executive Director of the Thai-Russian Chamber of Commerce.
All rights reserved by Rossiyskaya Gazeta.