iPad deliveries to Russia fall six-fold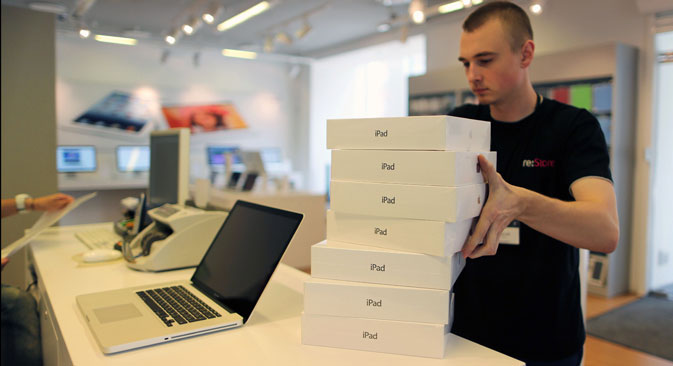 In April-June 2015, tablet manufacturers delivered 1.27 million devices to Russia worth a total of $185 million. Source: Getty Images
Apple is now losing out to Chinese and Korean manufacturers in the Russian market.
Deliveries of Apple tablet devices into Russia have dropped six-fold in the second quarter of 2015 compared with the same period in 2014, according to a report released by the IDC research company.
In April-June 2015, tablet manufacturers delivered 1.27 million devices to Russia worth a total of $185 million, marking a 26.2-percent drop in absolute terms and a 49-percent reduction in money terms as compared with the same period in 2014.
Apple tablets made up 1.6 percent of total tablet imports into Russia in the second quarter of 2015. A year earlier, the figure was 7.6 percent. Thus, in a matter of 12 months, Apple dropped from fourth to 12th position in the overall ranking of manufacturers in terms of the amount of deliveries.
The top three manufacturers in the second quarter of 2015 were China's Lenovo (14 percent of all imported devices), South Korea's Samsung (8.8 percent) and major Russian distributor Merlion's Digma brand (7.7 percent).
According to a senior analyst with IDC, Natalya Vinogradova, customers' interest in tablet devices is falling due to the growing popularity of smartphones with large screens. The smartphone is becoming a person's only device for internet access, games, and looking at videos and pictures. The segment of 5-5.5-inch display smartphones in the second quarter of 2015 grew correspondingly by 120 percent.
All rights reserved by Rossiyskaya Gazeta.