Which countries have benefited from Russia's food embargo?
Rospotrebnadzor officials dump illegally imported cheese into a landfill. Sergey Medvedev / TASS
Sergei Medvedev / TASS
Some nations have seen exports boom thanks to Moscow's ban on Western food imports.
Just over a year ago, Russia announced an embargo on Western food imports in retaliation for a series of U.S. and EU sanctions imposed on Moscow over its role in the Ukrainian conflict.
Russia has not fully succeeded in substituting the imports of foodstuffs banned under the embargo with supplies from other countries, although back in the fall of 2014, the plan was to boost imports from South America and Asia. Yet, according to statistics, some countries have benefited from the Russian food embargo: Pakistan, Belarus, Serbia, and Chile (see infographic).
"The rate of the decrease in the import of embargoed food is comparable with the rate of the decrease in overall imports. This is, most likely, indicative of the fact that – against the backdrop of the crisis – domestic consumption has shrunk, especially as far as imported goods are concerned, which have become more expensive because of the falling ruble," said Vladimir Salamatov, head of the Moscow-based International Trade Center.
The country that has shown the biggest increase in its supplies to Russia since the latter banned certain food imports from Western countries is Belarus. In the first five months of 2015, Minsk exported 916,400 tons of food products whose supply from certain countries is banned, compared with 568,300 tons in the same period last year.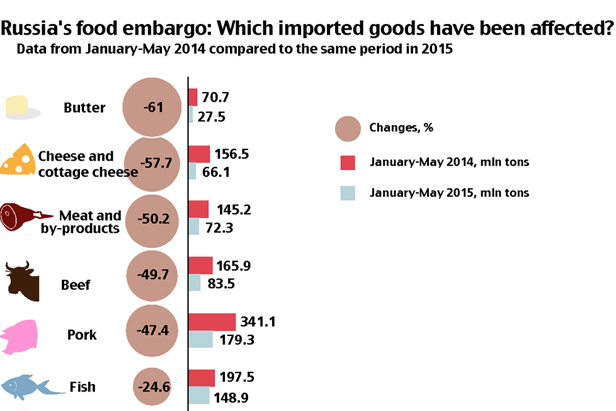 Click to enlarge the infographic. Drawing by Alena Repkina
Meanwhile, Brazil, which a year ago was described as "perhaps the main beneficiary" of the Russian food sanctions, has not lived up to these expectations. Despite last year's agreement on dairy supplies and expectations to double poultry supplies, in reality Brazilian exports to Russia have not only failed to increase but in the first five months of 2015 even went down, to 164,000 tons from 167,700 tons in January-May 2014.
China too has cut supplies of foods to Russia, from 418,000 to 390,000 tons, although last year Chinese businesses were planning to replace European fruits and vegetables on the Russian market. Last year, the then-Russian agriculture minister, Nikolai Fyodorov, also spoke of Chinese pears and apples replacing fruit from countries subjected to the Russian ban.
New Zealand has reduced its food exports to Russia by 69 percent. Last year, the Russian authorities declared their desire to increase imports from the country, however New Zealand producers were wary of the prospect of boosting "food" ties with Moscow. They were not sure that Russia would not punish their country as it had the other states that had introduced sanctions against Moscow.
First published in Russian by RBC Daily
All rights reserved by Rossiyskaya Gazeta.